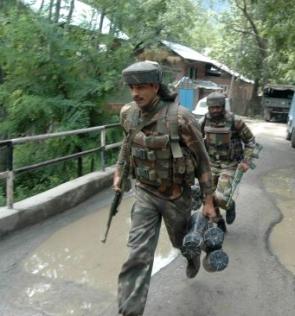 Terror struck Jammu and Kashmir's Kathua district early Friday morning as three terrorists in Army fatigues opened fire at a Sports Utility Vehicle, killing one of its occupants and injuring three others.
The terrorists were intercepted after a two hour chase near an Army camp and a private college in Kalibari-Janglote belt of Kathua district, triggering a heavy exchange of fire between the two sides. An army jawan has been injured in the encounter.
A police officer said, "Three persons wearing Army uniform intercepted a SUV, forced out the occupants and opened fire on them at Tarnah Nallah bridge in Dayala Chak belt of Kathua district around 0500 hours", a police officer said.
One person was killed and three others were injured, he said.
The terrorists hijacked the vehicle and drove away with the driver, the officer said
The vehicle carrying the suspected militants was intercepted by the Army after two hours near a private college in Kalibari-Janglote belt, resulting in heavy exchange of fire between the two sides that has left a jawan injured.
The encounter was going on when last reports came in.
The injured have been shifted to GovernmentMedicalCollegeHospital, police said, adding a high alert has been sounded by the security agencies.
Security has been stepped up at Army camps and important places in Kathua, Samba and Jammu districts.
The attack comes two days after BJP's Prime Ministerial candidate Narendra Modi had addressed a rally in Hiranagar-Dayalachak belt of Kathua district in which he had lashed out at Pakistan.
This is the second major terror attack in Kathua district. On September 26, 2013, three heavily-armed terrorists had attacked a police station and an Army camp in the border districts of Kathua and Samba, killing ten people, including four policemen and a Army officer.
An outfit calling itself the 'Shohada Brigade' had claimed responsibility for the twin terror attacks. However, security forces believe the Lashkar-e-Tayba was behind it.

Army chief Gen Bikram Singh has briefed Defence Minister A K Antony on the encounter in Kathua, Defence ministry officials said.
According to security agencies, a 'Bolero' was intercepted by the three men, who are suspected to be Lashkar-e-Toiba terrorists, near a bridge in Hiranagar area and all the occupants were asked to get down.

One of the injured told police that the only word uttered by terrorist was utro (get down) and after which the driver was separated from the passengers.
The terrorists opened fire at the occupants, who were on their way to Gurdaspur, and hijacked the vehicle along with driver Taraseem Singh.
Director General of Jammu and Kashmir Police Ashok Prasad told PTI that immediately after the police control room was informed at 4:47 am, all check posts and security establishments were alerted.
Despite bad weather, helicopters were pressed into service to locate the vehicle which was finally spotted in a nallah (seasonal canal) outside 111 Rocket division in Kathua, he said.
Senior Army officials were informed as a result of which terrorists could not even approach the main gate of the army camp where an alert guard had engaged them in fire fighting.
The terrorists are suspected to have entered through Tarlah Nallah in order to carry out a suicide attack ahead of Lok Sabha polls.
The same route was used by terrorists to enter into the state on September 26 last year in which 12 people including Lt Col Bikramjeet Singh was killed.
Chief Minister Omar Abdullah condemned the attack. "I'd like to unequivocally condemn today's militant attack in Kathua area of Jammu.
"As this is very much still an ongoing operation, I will not be commenting or reacting to today's events until the security forces have declared the operation as concluded," he tweeted.

The vehicle was carrying five persons including the driver. Out of this Ajit Ram, a resident of Vijaypur in Jammu, was declared brought dead by the hospital while other three -- Kamaljeet Singh, Gurpreet Singh and Santokh Singh -- were being treated in hospital.