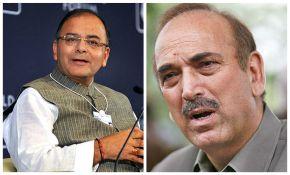 Finance Minister Arun Jaitley was on Monday named as the Leader of the House in Rajya Sabha, while Congress veteran Ghulam Nabi Azad was declared the Leader of the Opposition.
Rajya Sabha Chairman Hamid Ansari made the announcement on the first day's sitting of the Upper House after the Lok Sabha elections. Ansari said Parliamentary Affairs Minister M Venkaiah Naidu had written to him on June 2 informing that Jaitley will be the Leader of the House in Rajya Sabha. He said the letter regarding Azad being made the Leader of Congress came to him on Sunday.
Jaitley, 61, a senior Bharatiya Janata Party member was earlier Leader of Opposition in the Rajya Sabha during the United Progressiva Allance government, while Azad, 65 was Union Health Minister.
Both Jaitley and Azad lost elections from Amritsar in Punjab and Udhampur in Jammu and Kashmir respectively in this Lok Sabha polls but the tenure of their Rajya Sabha membership still remains.