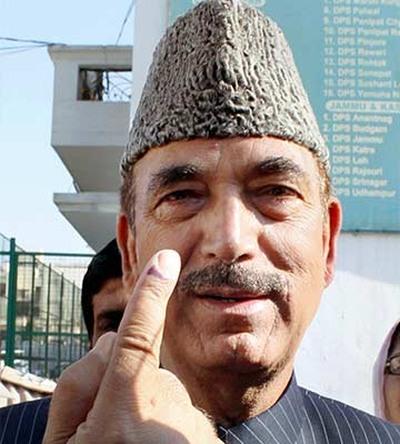 Union Minister Ghulam Nabi Azad, who is contesting first election of his political career, was up for a surprise on Thursday as he was asked by a polling officer in Jammu to prove his identity to cast vote after the senior Congress leader failed to furnish his voter card.
The minister exercised his franchise after a local Congress leader came to his rescue and stood as guaranteer for him.
Flanked by some Congress leaders, Azad, who asked for his ballot at Jogigate-F polling station at the DPS school in Jammu, was asked by the Presiding Officer to produce the voter's identity card or valid identity proof, a senior official of JK Election department said.
The officer, however, made it clear to Azad that he knew him by face but needed to be sure of his being a registered voter at the polling station, he said, adding that the officer acted as per the EC rules.

As the Union minister failed to produce his photo identity card or the EPIC, Congress candidate Madan Lal Sharma stood as surety for Azad's identity.
The polling agents of other parties including BJP did not object to Azad's exercising his franchising, who later cast his vote.
Later, when reporters asked Azad about the incident, he said, "There are tough measures taken by the Election Commission of India (ECI) this time to ensure free and fair polling. Such strong measures were not seen in the past".
Azad is trying his luck from Udhampur Lok Sabha seat.