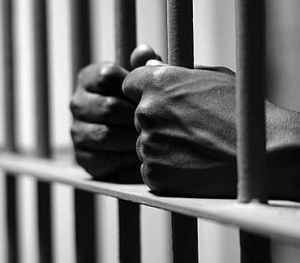 Jaish-e-Mohammed terrorist Syed Kirmani was captured by the Gujarat police at Hyderabad airport, reports Vicky Nanjappa/Rediff.com
After a decade-long hunt, the Gujarat police captured Syed Kirmani, a Jaish-e-Mohammad terrorist who is alleged to have helped plot the assassinations of Bharatiya Janata Party and Rashtriya Swayamsevak Sangh leaders.
A special Gujarat police team tracked Kirmani down to Hyderabad airport and arrested him two days ago. He was immediately produced in court. The Gujarat police will now seek his transit remand.
Kirmani landed in Gujarat 12 years ago at the behest of Jaish-e-Mohammed to help set up a module specifically to target BJP and RSS leaders.
Although the Gujarat police busted this module and arrested several men, Kirmani escaped to Saudi Arabia and stayed in the kingdom.
A couple of months ago, he returned to India and the police suspect it could be to carry forward the pending terror plans.
"We need to question him and find out about his plans," a police officer said. "We suspect he has come down specifically to target BJP leaders."
Image published for representational purposes only.