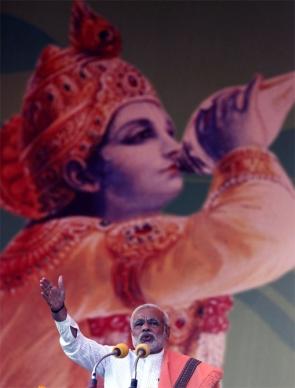 It is no secret that Bharatiya Janata Party's prime ministerial candidate Narendra Modi is the most coveted target of terror outfits operating within India.
Modi has long been in the cross-hairs of several fundamentalist outfits for his alleged role in the post-Godhra riots that rocked Gujarat in 2002 during his first term as the state chief minister. Thousands of members of the Muslim community were killed in the riots.
But some radical right-wing outfits are also gunning for Modi's head, according to the latest startling report by the Intelligence Bureau.
IB officials suspect that leaders of these right-wing outfits are angry at Modi for not trying hard enough to protect those convicted in connection to the post-Godhra riots. They want to express their displeasure by sabotaging the numerous rallies and meetings the Gujarat CM is addressing across India.
The IB has urged the chiefs of state police to be on their toes whenever an event involving the PM candidate is held in their state.
"Do not take any chances," is the unofficial brief issues by the IB.
The agency is equally worried about the radicalisation of young men from the minority community who are openly targeting right-wing leaders.
The murder of a BJP leader in Salem by alleged operatives of the Al-Ummah and the blast outside the saffron party's office in April 2013, allegedly orchestrated by the same outfit, has put the agencies on high alert.
Meanwhile, officials of the National Investigation Agency are trying to trace the mastermind of a daring plan that involved a spree of assassinations against right-wing leaders across the country.
While four of the suspects have been released due to lack of evidence, the NIA is looking for one Zakir Ustaad, the mastermind of the so-called Bangalore assassination plot.
Ustaad, who allegedly crafted a detailed plan to target 24 right-wing leaders, is believed to be hiding in the Middle East.