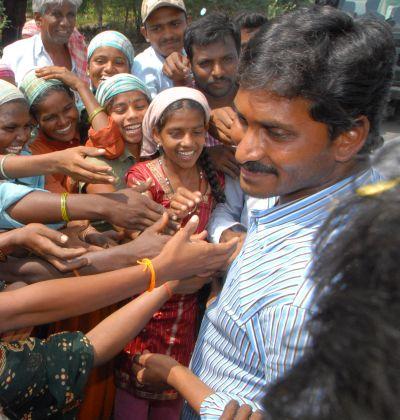 Amid loud slogans of "Jai Jagan", YSR Congress party leader Jaganmohan Reddy walked out of the Chanchalguda central jail in Hyderabad on Tuesday after the Central Bureau of Investigation court issued formal orders for his release on bail.
Jaganmohan Reddy left the jail for his home "Lotus Pond" at Jubilee Hills in the city in a bulletproof Scorpio as the police found it difficult to keep thousands of his supporters at bay.
YSR Congress Party MLAs were among those who waited outside the jail for several hours.
Though the CBI court had granted him bail on Monday, completion of formalities delayed his release till Tuesday afternoon.
Jagan's two cousins Avinash Reddy and Yeshwant Reddy furnished two securities of Rs 2 lakh each in the CBI court on Tuesday morning.
After the court accepted them, Jagan's lawyer Ashok Reddy and an employee of the court took the orders of Jagan's release to Chanchalguda jail after lunch. This paved the way for his release from jail after 16 months of imprisonment.
As emotionally charged supporters of Jagan had started gathering at Chanchalguda jail from Tuesday morning, police had made elaborate security arrangements.
To prevent the party workers and supporters from reaching too close to the jail gate, authorities put up barricades and appointed a large contingent including a company of Border Security Force and two platoons of AP Special Police apart from the civil police.
Hundreds of Jagan supporters from his home district Kadapa had also arrived in Hyderabad.

Photograph: SnapsIndia