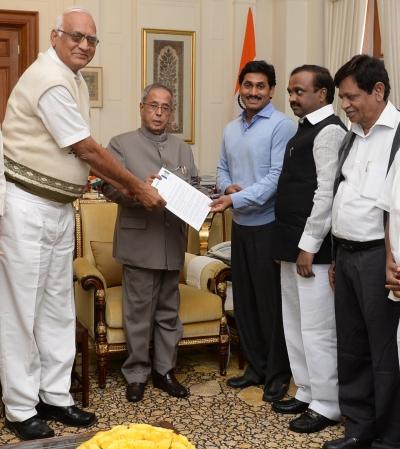 A delegation of YSR Congress Party leaders on Saturday met President Pranab Mukherjee and sought his intervention on their behalf for the cause of keeping Andhra Pradesh united.
In a memorandum submitted to the President, party chief YS Jaganmohan Reddy emphasised the need for amending Article 3 of the Constitution.
"This is the crucial hour as democracy is on the threshold of a deceitful mansion. We have to save and preserve its sanctity as the will of the people should prevail and not the arithmetic of a few leaders," the memorandum said.
The delegation led by Reddy later met Janata Dal - United chief Sharad Yadav and sought his support for defeating the Telangana Bill in Parliament.
"Arbitrarily dividing any state without taking the assembly into confidence is not going to be right for this country. If Article 3 is not amended, then what is happening in Andhra Pradesh may take place in other states as well," Reddy told reporters.
A proper procedure should be in place before the bifurcation of the state, he added.
"An amendment should be brought in for Article 3 wherein the assembly must unanimously pass a resolution, or, at least, two-thirds majority in the assembly and Parliament should be made a must (for bifurcation of a state)," he stated.
JD-U leader Yadav opined that imposing Article 3 on Andhra Pradesh would be harmful for the country.
Image: Jagan Mohan Reddy with President Pranab Mukherjee and YSR Congress leaders ' Photograph: SnapsIndia