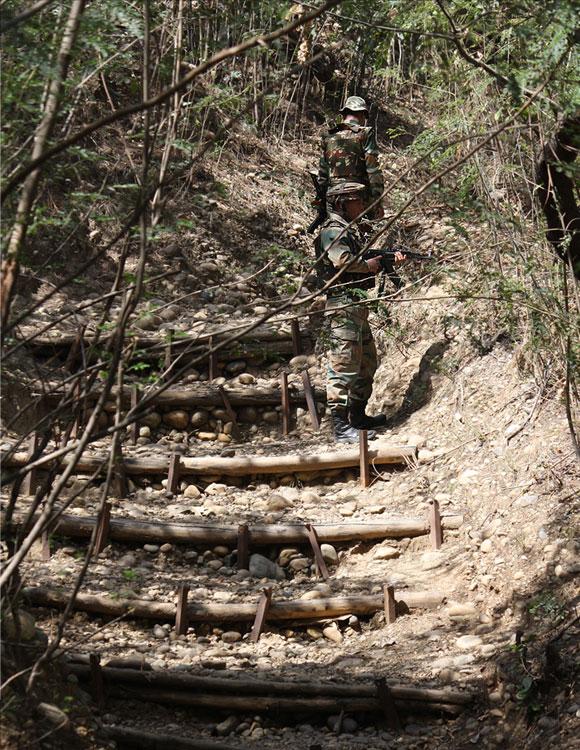 In a reminder of Kargil incursion of 1999, around 40 terrorists along with Pakistani special troops are 300-400 metres inside the Indian territory in Keran sector of Kashmir and are getting logistics support through a supply line across the Line of Control.
As the armed engagement entered the 10th day, there was sporadic exchange of fire but no fresh report of any casualty was reported, defence sources in Srinagar said.
Army sources said the infiltration attempt took place when the 20 Kumaon battalion was being replaced by the 3/3 Gorkha Rifles unit in the Keran sector.
The terrorists and their suspected Pakistan army accomplices are holding on to their positions and are understood to have taken refuge in some abandoned old bunkers of the army, they said.
Giving an update on the armed engagement that entered the 10th day, the army headquarters in Delhi said the group of terrorists have been surrounded by the Indian troops on three sides. However, the group has a supply line from Pakistan-occupied Kashmir and are believed to be getting logistical support from there, sources in Delhi said.
Indication to this effect came when 10-12 terrorists joined two days back the group which has already been engaged with the Indian troops, the sources said. Pakistani troops also fired from a forward post in the NeelamValley in support of the infiltrating terrorist group on the night of September 26, they said.
Though the Pakistan army normally resorts to firing on Indian posts to help infiltrating terrorists, the pattern of maintaining a supply line has been seen for the first time since the Kargil conflict of 1999.