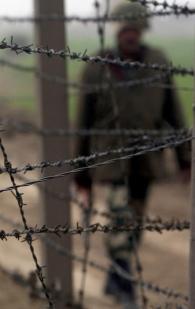 The Pakistan army on Thursday dismissed as "baseless" that its troops were involved in massive infiltration attempts from across the Line of Control into Jammu and Kashmir.
"No such thing happened at all. This is a blatant lie. We totally deny this baseless allegation," a Pakistani military spokesperson told PTI.
Five Indian Army personnel were injured in the counter infiltration operations in the Keran sector of Jammu and Kashmir that have been continuing for the last nine days after 30 to 40 terrorists had tried to infiltrate from multiple points on the LoC on the night of September 24.
Although the general officer commanding of the army's 15 Corps Lt Gen Gurmit Singh had said it will be premature to say whether the Pakistan army was involved in infiltration of militants, he said there were definite indications that some special troops were part of it.
He said the analysis of this infiltration bid indicated the involvement of Border Action Team, a mixture of Pakistani regulars and militants.
"I can only say, analysing the methodology of this infiltration, it was not a pure infiltration (attempt). It was a BAT-cum-infiltration (bid). The number of militants who attempted this infiltration was rather large. In fact, last (Wednesday) night 10 to 12 militants tried to sneak into the cordoned off area from across," he said.
Image: A BSF soldier patrols near the fenced border with Pakistan

Photograph: Danish Ismail/Reuters