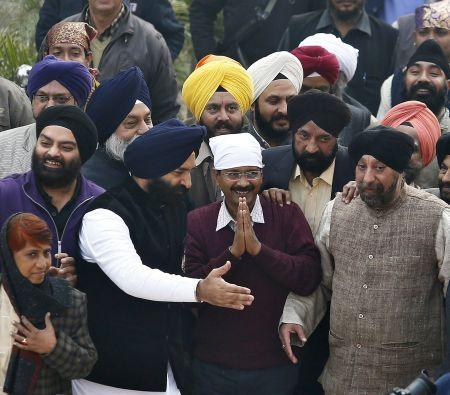 Although Arvind Kejriwal is not top on the radar of any terrorist outfit at the moment, security agencies feel that abduction attempts cannot be ruled out, reports Vicky Nanjappa.
Despite his refusal to take security, Delhi Chief Minister Arvind Kejriwal has been provided Z category security. The Ghaziabad police, which outlined the security plan, was adamant to provide security to Kejriwal despite his refusal.
The question is in such a case, where the CM is refusing security, is who has the final word? Kejriwal may not want security, but it is the ministry of home affairs has the final word based on reports by the Intelligence Bureau.
Whether he likes it or not, he will have to take the security, as the threat perception on him is high, according to the security agencies.
However, Kejriwal is not top on the radar of any militant group at the moment. Presently there is nothing to show that any group or terrorist outfit, including the Naxals, is looking to target him. He has openly been seen in public and has always said that "God will protect" him.
But the security agencies are not amused and feel that it is the position that he holds which needs security.
He is an important person. Even if there is no assassination bid on him, it would cause a lot of nuisance for the security agencies if someone attempted an abduction. This is the biggest worry pointed out by the security agencies which finally put their foot down and provided Z category security.
In the event of abduction things could go horribly wrong. There would be demands that would be put forth, and considering the importance of the man, many demands would even be met much to the embarrassment of the Indian agencies.
While analysing the case of Kejriwal, a number of aspects were considered by the intelligence and security agencies. There is a chance of someone trying to abduct him. Considering his large number of public appearances, there are also chances of miscreants trying to disrupt proceedings or even assaulting him.
"Kejriwal may have tried to make a statement by refusing security, but when it comes to national interest what an individual says does not matter", an intelligence officer told rediff.com.
Security in India is divided into four categories: Z plus, Z, Y and X which have security personnel of 36, 30, 11 and 2, respectively. However, several questions have been raised about the deployment of security personnel to all politicians and VIPs. Providing Z plus security would cost the state around Rs 10 crore a month and in the case of Z it comes up to about Rs 6 crore a month.
In the case of Kejriwal the security is estimated to cost around Rs 6 core a month. There would be 30 personnel guarding him round the clock which would include 10 constables outside his house. He would also be escorted by vehicles with security personnel.
Image: Arvind Kejriwal gestures while visiting a gurdwara in Delhi
Photograph: Anindito Mukherjee/Reuters