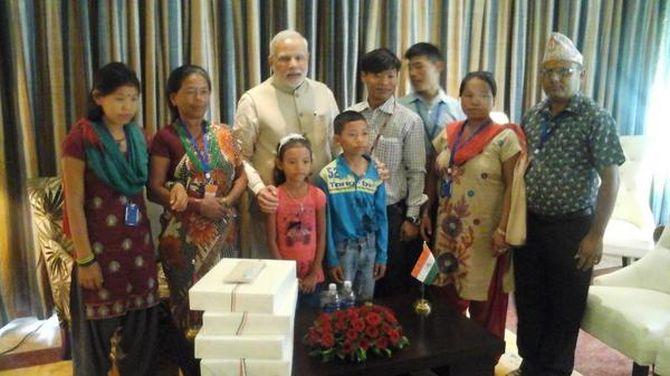 It seemed to be a scene taken out from a Bollywood movie but the only thing was that it was real -- the story of lost and found.
It was an emotional reunion of 26-year-old Jeet Bahadur, a Nepalese youth, with his family after about 16 years of separation. Prime Minister Narendra Modi has had a key role in this reunion.
Bahadur had got lost in India and Modi found him in Ahmedabad. Since then he played the role of a guardian to him, looking after him and ensuring his education and well-being. He also made the special effort of ensuring that Bahadur's family is located in Nepal and he is reunited with them.
Soon after arriving for a two-day visit, Modi handed over Bahadur to his mother Khagisara and brother Dasharath Sarumagar and younger sister. Dasharath's wife and children were also present at the emotional reunion.
"How happy are you now? You should be happy after seeing your lost son after so many years," Modi told Bahadur's mother during the reunion.
The grateful mother expressed thanks to Modi for looking after her son and educating him like his 'dharma putra'.
The poor family, which lives in a slum colony of Nawaalparas district of Nepal, had concluded that Jeet Bahadur had got lost for ever after Dasharath failed to locate him about 16 years ago.
"He (Modi) looked after me like his younger brother ever since I came in contact with him at the age of about 8-10 years. I don't think even my mother would have done so much for me," said Jeet Bahadur.
"It is my good luck that I lived with a VIP but I never felt that I was living with a VIP," said Jeet.
A student Business Administration plans to continue his studies in India despite his family being located after so long. He now cannot speak his mother tongue Nepali although he understands it but is fluent with Hindi.
"I told the PM that I am grateful that you took care of my son. Under your guidance, he has been educated and become a good person," said Jeet's mother while narrating her interaction with Modi.
The way Jeet was lost and reunited with his family is an interesting story. He came to Rajasthan with his brother Dasharath for work. "After some time, I returned home (to Nepal) as I was unhappy with the work," Dasharath said, adding that Jeet stayed back.
"After some time, I returned to the place where we used to work but did not find Jeet there. I searched everywhere but could not locate him. Finally I concluded that he had got lost," the brother recalled.
Jeet had by then mistakenly taken a wrong train and reached Ahmedabad where he came in contact with Modi in 1998, when he was not even the chief minister.
However, about two years back there was yet another twist in the story. Dasharath got a message that Jeet has been found. "I could not believe it. And at the same time I had lot of apprehensions. I had apprehensions that it may be someone else and not my brother," Dasharath said.
Image: Jeet Bahadur and his family pose for a reunion photograph with Prime Minister Narendra Modi. Photograph: @PMOIndia/Twitter