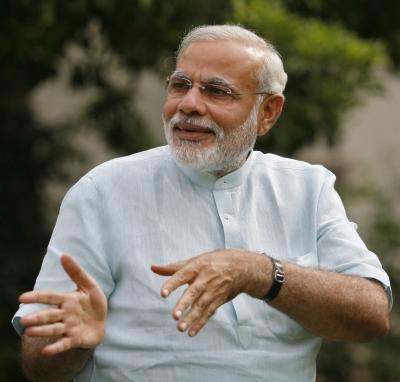 With neighbourhood being the priority of his foreign policy, Prime Minister Narendra Modi will travel to Nepal on Sunday on a two-day visit during which the two countries are expected to sign agreements in sectors like power and India may announce economic aid.
This will be the first bilateral visit by an Indian prime minister to Nepal in 17 years, after I K Gujral had travelled there in June 1997, signalling the resolve of the new government here to take the relations with that country to a higher level.
Modi will have talks with his Nepalese counterpart Sushil Koirala and get the honour of addressing that country's constituent assembly, only the second foreign leader after former German Chancellor Helmut Kohl who had done it in early 1990s.
He will also visit the famous Pashupatinath Temple where he is expected to participate in a special puja. Modi is also expected to meet leaders of various political parties.
During the trip, India is expected to announce economic assistance and the two sides are likely to sign pacts in sectors like power and culture, sources said but refused to divulge details.
Modi's visit comes just a week after External Affairs Minister Sushma Swaraj had travelled there. This shows the "intention and priority that our prime minister places on the neighbourhood," External Affairs Ministry spokesman Syed Akbaruddin told reporters while briefing on the visit. He recalled that Modi had undertaken his first foreign visit after becoming the PM to Bhutan.
Koirala had attended the swearing-in ceremony of Modi as prime minister at the latter's invitation on May 26.
Talking about the special nature of India-Nepal ties, Akbaruddin said the relations are rooted in history, geography and culture.
India is making efforts to boost these ties in all aspects, including defence, security, training, exercises and connectivity.
Cooperation in management of common rivers is a key element of India-Nepal ties. India, which at times, faces floods because of the rivers originating in Nepal, has been imparting training to Nepalese officials to deal with the problem. It has given Rs 200 crore to Nepal for the purpose.
Abhay Thakur, joint secretary (North) in the MEA, said there is a need for realtime exchange of flood data. "We are ready to extend assistance in this regard," he said, adding India is already providing assistance on improving embankments of rivers.
Akbaruddin said India would like to upscale the relationship beyond 2014 amidst its desire to see stable, democratic and peaceful Nepal. To a question about the agreement between the two countries during Swaraj's visit last week to review the 1950 Treaty, Akbaruddin said it was a reiteration of what had been agreed on earlier. He said if there are any issues, those can be raised at the level of foreign secretaries.
To a query about a proposal to set up eminent persons' group between the two countries, he said it is "work in process" as nominations have to be made by both sides. The group will have a look at the relationship and make suggestions about its future, the spokesman said.

Image: PM Modi will visit Nepal on Sunday