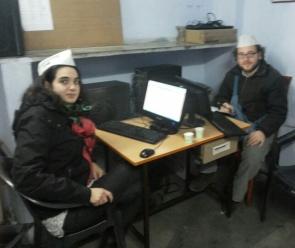 Indian political pundits are not the only ones who are analysing the spectacular success of the Aam Aadmi Party in the recently-held Delhi polls.
Cristiano and Sofei Gianolla, an Italian couple, have traversed thousands of miles to understand the AAP movement and its version of representative democracy.
"The AAP, led by Arvind Kejriwal, is trying to follow the Gandhian ideology for the perfect democracy. That is something the Congress party, which claims to be a follower of Gandhism, has long forgotten," said Gianolla, who has read the Delhi chief minister's book Swaraj.
Gianolla wants to comparatively analyse two political movements -- the one spearheaded by the AAP in India and the one launched by M5S in Italy.
M5S, also known as the Five Star Movement, is a political party floated by activist and comedian Beppe Grillo to tackle corruption.
Both movements, believes Gianolla, are struggling towards 'political anti-colonisation' and 'democratisation of democracy', including the usage of civil disobedience as a tool to bring about a change in the system.
Gianolla explained why he chose to visit Jaipur, not the AAP's stronghold Delhi, "We want to watch and understand the movement. It is taking shape here, while it has already taken shape in Delhi. We can learn more in Jaipur. In February, we will go to Delhi and try to meet Arvind Kejriwal."
"Post independence, only rulers changed in India. But the way they ruled did not. In democracy, power should be decentralised and the common man should be part of it. Except the AAP, all parties termed themselves as rulers while the common man felt that he/she was being ruled," he said.
But the researcher also has some cautionary advice for the AAP.
"Getting votes is important for AAP leaders but more important is following the Gandhian way of democracy, something that they have been preaching since a long time," said Gianolla.
Image: Cristiano and Sofei Gianolla