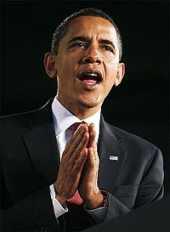 United States President Barack Obama has said America will keep "all options on the table" to stop Iran from going nuclear, noting that Tehran is "over a year or so" away from developing an atom bomb, if it has any such plans.
Six days before his forthcoming trip to Israel, Obama, in an interview to Israel's Channel 2, asserted that the US did not want to go down to the deadline with the Iranians.
"Obviously we don't want to cut it too close," the US president said.
He also rebuffed the notion that part of his message to Israel's hawkish Prime Minister Benjamin Netanyahu will be to try and reign in any possible Israeli military action.
"My message will be the same as before. If we can resolve his diplomatically, that is a more lasting solution, and if not, I continue to keep all options on the table," he said.
"When I say all options are on the table, all options are on the table, and the US obviously has significant capabilities," he emphasised.
The president reiterated that America's goal remains to stop Iran from possessing a nuclear weapon that could "threaten" Israel or trigger an arms race in the region.
The US president's first trip as the head of state to Israel has been largely billed as his first shot at talking directly to the Israeli public.
On efforts to revive peace process between Israel and the Palestinians, Obama said he is not coming with any concrete plans on how to move the process forward, but his goal is to listen to both sides and hear their strategies and visions.
Obama said the only path forward for both the Israelis and Palestinians is to get back into negotiations, and that during his visit he will explore "whether that can happen soon or there needs to be further work on the ground."
Obama said he will tell Palestinian Authority President Mahmoud Abbas that running around Israel to the United Nations will not be successful, and that he will suggest Netanyahu to have an interest in strengthening the moderate leadership in the PA.
He said he will ask Netanyahu to make sure that issues like settlements are viewed from the perspective of how much it will help bring Palestinian moderates to the dialogue table.
Touching upon the much-hyped strained relationship between him and Netanyahu, Obama described it as a "terrific, business-like relationship".
"I've met with Bibi (nickname for Netanyahu) more than any other world leader one-on-one," he said. "We could not coordinate militarily or on the intelligence side had it not been for our capacity to work together."
Obama, who was criticised for not mentioning the historical ties of Jews with Israel in his 2009 Cairo speech, made its reference in the interview, saying he has always admired the Jewish people's "connection to the land".