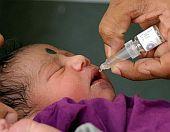 Infant mortality rates have dipped in Bihar.

Government officials told rediff.com that the state had been able to match the national average on infant mortality.

According to figures available, IMR in Bihar declined by 12 points in last three years -- on an average four points per year.
State Health Minister Ashwani Kumar Choubey said, "In 2005, the IMR was 61 per 1,000 births; now it has come down to 44 per 1,000. It is a big positive development. The state has recorded a sharp fall in the IMR in last six years, thanks to consistent efforts and steps taken by the government."
Choubey added that efforts are being stepped up to reduce the IMR below the national average at the earliest.
Sanjay Kumar, executive director, State Health Society, said: "The government has been opening fully-functional nutrition rehabilitation centres in all districts. It also proposes to start caesarean sections and make available 500 more ambulances for transportation of patients."
According to Kumar, the newborn care units have 'helped reduce infant mortality across the state'. These units operate round the clock, and have helped save lives of over 90,000 babies born with complications each year.