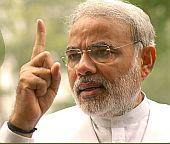 Two Bharatiya Janata Party ministers in the Nitish Kumar government in Bihar on Sunday said that they would campaign in the forthcoming Gujarat elections to ensure the support of migrant workers from the state for chief minister Narendra Modi.

State Animal Husbandry Minister Giriraj Singh and Health Minister Ashwani Kumar Choubey -- both known Modi supporters -- said they would campaign in Gujarat after Durga Puja festivities are over

"I will go to Gujarat after Durga Puja to campaign in the elections. There is no question of not going to campaign as it is a matter of commitment," Singh said.

Interestingly, top leaders in the BJP from Bihar -- including Deputy Chief Minister Sushil Kumar Modi, national-level leaders like Rajiv Pratap Rudy, Ravi Shankar Prasad, Shahnawaz Hussain and others -- have not been invited to campaign in Gujarat till date.

This fact was revealed in the list of star campaigners provided by the BJP to the Election Commission. The party has neither included any of its prominent Muslim faces nor any leader from Bihar where it shares power with ally, Janata Dal-United.

The BJP in Bihar seems divided between pro-Narendra Modi and pro-Nitish Kumar.

A few days ago when state BJP president C P Thakur had announced that the party would invite the controversial Gujarat chief minister for the rally in Patna next year, Deputy CM Sushil Modi had asserted that BJP's central leadership had decided at the very outset not to engage Narendra Modi in Bihar.

"There is nothing personal in it. Given the social composition, ground reality and the NDA's political interest in the state, the BJP central leadership did not think it wise to employ him (Narendra Modi) in Bihar. And there is no reason for the party to amend its strategy now," he said.

The JD-U has been vocal in its opposition to Modi coming to the state. The Gujarat chief minister evokes strong reactions, particularly from the minorities, for his alleged involvement in the 2002 riots. Though it has been 10 years since the riots, tensions continue in Bihar.