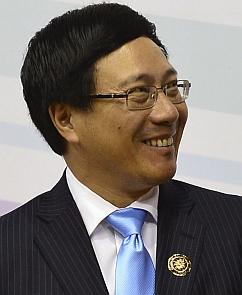 When Vietnam's India born Foreign Minister Pham Binh Minh arrives in New Delhi on Wednesday evening, he will have many areas of similar interest to discuss with his counterpart, External Affairs Minister Salman Khurshid.

Both India and Vietnam, which have boundary disputes with China, have had high level political interactions with their northern neighbour in recent months. While India has a dispute border with China, there have been tensions between Vietnam and China over differing maritime claims in the South China Sea region.
Chinese Premier Li Kejiang visited India in May on his first trip abroad as head of the government and Vietnam's President Truong Tan Sang made a three-day state visit to China in the third week of June.
All three countries have made efforts to ease the disagreements over their disputes during this period. Both India and Vietnam would benefit from each other's experience of dealing with the new government in China; India in dealing with the border incident at Depsang in the western sector in the India-China border area and Vietnam in its face off with China over fishing boats.
During the ASEAN-India summit last December, Vietnamese Prime Minister Tan Dung had called on India's support to help resolve the South China Sea disputes. Foreign Minister Pham Binh Minh has a close connection with India -- he was born in India in 1959 when his father was posted here as Counsel General at the Vietnamese embassy.
His father, Nyguyen Co Thach went on to become a highly influential foreign minister and deputy prime minister in the 1980s during a high period of India-Vietnam ties. Fluent in English and confident in approach in an international environment Minister Pham Binh Minh, when he succeeded to the position once held by his father, brought a stylistic change to Vietnamese diplomacy from the old communist norms.
Binh Minh will be in India to co-chair the 15th meeting of the India-Vietnam Joint Commission. Bilateral trade between India and Vietnam is growing steadily and is about US $4 billion in 2012 and is likely to reach $5 billion this year.
As Vietnam opens up its economy, it has become an attractive destination of Indian companies which are investing in oil and gas exploration, mineral exploration, agrochemicals, IT, sugar industry and agricultural processing. There are over 86 Indian investment projects in Vietnam from Indian owned companies and their subsidiaries in other countries of the region.
The Vietnam government is keen to enhance trade and investment ties with India and there are two major thermal power plants and a steel plant in the offing with Indian collaboration.
Though Beijing has objected to Indian oil exploration in Vietnamese territorial waters, Vietnam is keen that Indian companies continue exploration work. Vietnam has shown an interest in acquiring Brahmos missiles.
The Vietnamese military equipment is largely of Russian origin and therefore the joint Russia-India joint venture supersonic missile would be a good fit for Vietnam's defence equipment.
As part of the Look East Policy, Vietnam is one of the key countries from Indian assistance projects in the ASEAN region. One area of focus for technical assistance has been on English Language centres.
The Vietnam-India Centre for English Language Training was set up in Danang under the Initiative for ASEAN Integration. Another Vietnam-India Centre for English Language Training is being set up at the Diplomatic Academy of Vietnam.
India and Vietnam had exceptionally friendly and cordial relations since the time of Prime Minister Jawaharlal Nehru and President Ho Chi Minh which continued till both countries began their adjustment to global changes during the post cold war era.
The interaction cooled a bit as both sides felt the need to find new friends and investors. In the past decade, the two countries have made renewed efforts to revive their old friendly and cooperative relations by taking their ties to a strategic level in 2007.
Image: Vietnam's Foreign Minister Pham Binh Minh
Photograph: Ashim Rani/Reuters