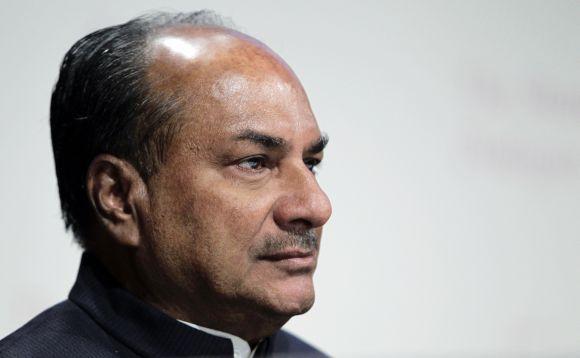 Against the backdrop of growing Chinese assertion in the Asia-Pacific region, India on Thursday said it supports the "freedom of navigation" in international waters noting that any disputes or differences in the region must be resolved diplomatically.
Defence Minister A K Antony, who is in Bangkok on a day-long visit, held wide ranging talks with his Thai counterpart Air Chief Marshal Sukhumpol Suwanatat, calling for cooperation in several areas including keeping open sea lanes and measures to tackle piracy.
He also offered to cooperate with Thailand in the field of defence production. Thailand praised India's indigenously developed defence capabilities. Antony said both India and Thailand had large stakes in the maintenance of peace and stability in its immediate neighbourhood and in the wider Asia Pacific region.
"Our trade is dependent on the sea lanes. Hence, security of the sea lanes and freedom of navigation is critical to our economic and overall security. India supports the freedom of navigation in accordance with the principles of international law," he said in his talks with Suwanatat.
Noting that peace and stability was in the interest of all countries in the region, Antony said, "We support resolution of differences and disputes through the process of dialogue and consensus between the parties to such disputes."
"All countries must exercise restraint and resolve issues diplomatically, according to the principles of international law," he said.
Antony's comments came amidst flexing of muscles by China in the South China Sea and the East China Sea. China has in the recent past used its naval ships and aircraft to intimidate neighbouring countries including Japan which are in dispute with Beijing over maritime rights.
China has also increased presence of its maritime forces, including submarines and warships, in the Indian Ocean Region.
During Prime Minister Manmohan Singh's visit to Bangkok last week, Thailand had expressed interest in India's defence industry, which has competitive production and advanced technology.
Both countries had agreed to pursue defence industry collaboration in areas of mutual interest. The two Defence Ministers also discussed measures to further expand defence cooperation. The two countries also agreed to increase service to service contact between the army, the navy and the air force.
During Singh's visit, the two countries had agreed to enhance anti-piracy cooperation, promote security of sea lanes and Coast Guard cooperation to contribute to the maintenance of peace in the region and to work towards ensuring safety and security of navigation in the Indian Ocean.
Noting that ASEAN was central to any security architecture in the region, Antony said, "India is committed to efforts of ASEAN defence ministers' meeting plus, ASEAN Regional Forum and the East Asia Summit for promoting dialogue and consensus building among all countries of the region," he said.
Offering cooperation and collaboration in defence production, Antony said, "India has, over the years, developed a well established defence industry which can meet varying requirements of the Thai armed forces."
He also welcomed the visit of Thai defence delegations to various Indian military production facilities. "Through conscious planning, hard work by our scientists and support by the government is resulting in the growth of a strong defence industrial base in the country," the defence minister said.
Antony is in the last leg of his three-nation tour to Australia, Singapore and Thailand. He has already visited the other two countries and held talks for enhancing defence and military cooperation with them.
Antony and Sukhumpol also underlined the importance of connectivity projects such as the trilateral highway involving India, Thailand and Myanmar in bringing closer India, Thailand and South-East Asian region as a whole.
The two defence ministers noted with satisfaction the steadily growing bilateral defence ties that are characterised by regular joint exercises, coordinated patrolling, participation in each other's training programmes and exchange of personnel.
"India is committed to efforts of ADMM Plus, ARF (ASEAN regional forum) and the East Asia Summit for promoting dialogue and consensus building among all countries of the region," Antony said.
The ASEAN Defence Ministers' Meeting (ADMM) is the highest defence mechanism within ASEAN. The ADMM plus includes India. The annual ADMM facilitates the ASEAN defence ministers to discuss and exchange views on current defence and security issues and challenges faced in the region.