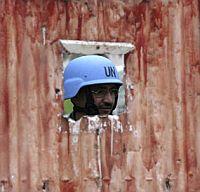 Indian peacekeepers suffered the second highest number of casualties in 2013 as working for the United Nations became more hazardous, with increased deliberate attacks on its personnel.
According to the Standing Committee for the Security and Independence of the International Civil Service of the United Nations Staff Union, 33 peacekeepers and 25 civilians and associated personnel were killed in 2013.
Of the 33 peacekeepers killed in the line of duty, seven were Indian soldiers who died in South Sudan. In the first attack, 32 Indian peacekeepers with United Nations Mission in South Sudan were escorting a UN convoy when they were ambushed on April 9 by about 200 attackers near Jonglei state.
Five Indian peacekeepers -- Mahipal Singh, Shiv Kumar Pal, Heera Lal, Bharat Sasmal and Nand Joshi -- were killed in the attack. Indian peacekeepers came again under attack in South Sudan in December last year.
Two UNMISS Indian Battalion troops, Subedar K P Singh and Subedar Dharmesh Sangwan, were killed in action and one was injured on December 19 in Akobo, South Sudan, following an assault on a UNMISS base.
Tanzanian peacekeepers lost 10 soldiers in attacks in Darfur and Democratic Republic of the Congo. Sixteen peacekeepers were killed in Darfur, seven in South Sudan, four in Mali and four in the Democratic Republic of the Congo.
Five civilian staff members, four of them working for the United Nations Relief and Works Agency for Palestine Refugees, were killed in the SyrianArabRepublic.
In 2012, 37 United Nations personnel -- 20 civilians and 17 peacekeepers, two of them police officers -- were killed in the line of duty.
In 2011, 36 personnel -- 26 civilians, nine peacekeepers and a military advisor -- were killed. The Staff Union's overview comes just months after UN Secretary-General Ban Ki-Moon appealed to member states and host governments to support all measures of safety and security measures to improve the operational environment for UN personnel and humanitarian workers.
"UN personnel serve in an increasingly dangerous environment and encounter a variety of threats not previously encountered in the history of the Organisation," Ban told the 193-member General Assembly.
He cited a UN report 'Safety and security of humanitarian personnel and protection of United Nations' released last year, which showed that significant security incidents affecting UN staff in 2012 increased to 1,793 compared with 1,759 in 2011.
Violent acts were cited as the primary cause of death or injuries during 2012.