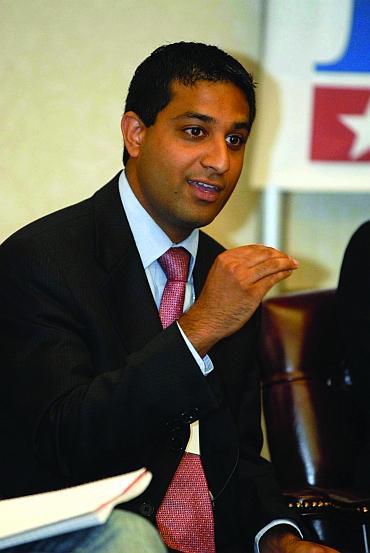 Ohio legislator Jay Goyal, who was elected to the state House of Representatives at age 25 -- the youngest to win a seat to state office in at least three decades since current US Senator Sherrod Brown won his seat from the same district -- has decided to not run for re-election for a fourth term.
In a letter to friends and supporters May 3, Goyal, 31, wrote, "Since 2007, I have had the honor to serve the people of Mansfield and Richland County. It has been the most rewarding experience of my life, and I am proud of all that we have achieved together. I've had the chance to collaborate with great public servants such as Governor Ted Strickland, Senator Sherrod Brown, Leader Armond Budish, former state representative Bill Hartnett, and dozens of other tremendous mentors and friends."
'Together, we have helped lead Ohio through one of the most difficult economic periods in our history. There's a lot that we have accomplished. We championed the Third Frontier Program fostering entrepreneurship, a model of public-private partnership that is creating thousands of Ohio jobs," he wrote.
"In 2009, in the midst of the worst economic decline in nearly a century, we passed a bipartisan balanced budget without raising taxes. In recognition for my civic leadership, I was named to Time magazine's Top 40 Under 40 Rising Stars of American Politics. While it's been an incredible six years fighting for working families and Ohio business, I am writing you today to let you know that I have decided not to seek reelection to the Ohio House," he wrote.
"I will be shifting my focus from public service to my family's local manufacturing company, Goyal Industries, where I will be transitioning to president of the company and to pursue additional business educational opportunities," he wrote.
He said he would 'be endorsing Ellen Haring to be the new Democratic candidate in the 73rd district. She has served with distinction on the Mansfield City Council for the past five years and is the perfect person to continue our work in Columbus.'
He said, "It wasn't an easy decision. It's something that I thought about quite a bit and I talked to some close friends and advisers and this is what I ended up deciding. I wanted to move on and do something in the private sector and so I am going to spend some time in my family company (which manufactures parts for subway cars) and also going to be getting an MBA as well."

Pressed on where he hoped to pursue his MBA, he said it's likely to be at Harvard.
Goyal, who was the co-chair of the Ohio House Democratic Caucus and before that the Majority Whip when the Democrats held the House before losing to the GOP two years ago, denied that being in the minority and being stalled at every turn by the GOP to pursue both his and his party's agenda had left him frustrated and had prompted his decision to quit.
He said Democratic Governor Strickland's loss two years ago to Republican John Kasich had nothing to do with his decision. During the run-up to the election two years ago, rumors were afoot that if Strickland were re-elected he would likely appoint Goyal as his deputy or as lieutenant governor.
Goyal said, "None of that really factored into it. It was really a situation where I got into this at such a young age and I thought that I could take some time off while I am still young and also get a graduate degree -- get an MBA -- and then still have time to come back and run for office in the future… I still plan to return at some point. I came from the business sector before I ran and always knew that I wanted to get back to it and with my age and everything else, I decided that this was the time to do it."
What advice does he have for young Indian Americans who are thinking of public service and look up to him as a role model?
"I would say when you are in public service, it's good to have a lot of different types of strategic plans and a background in different types of areas," he said. "I enjoyed my time in public service and I now feel that I got to serve my community in another way -- by working at Goyal Industries. Getting some additional business experience and then still running for office again down the road sometime."
Image: Ohio legislator Jay Goyal
Photograph: Paresh Gandhi