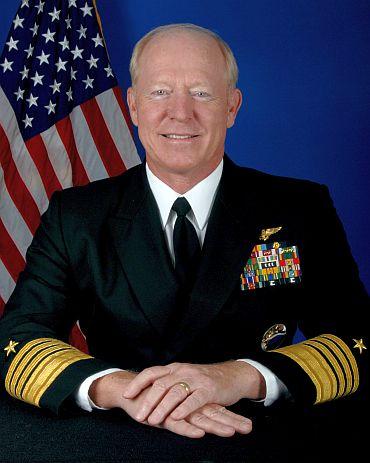 Admiral Robert Willard, Commander of the US Pacific Command, has said that Indo-US military relations are now robust but acknowledged that there is still a lot to overcome in terms of inter-operability, which comes from a lack of acquaintance with one another.

Willard, providing an overview of PACCOM's activities in the Asia region at the Foreign Press Centre in Washington, responding to a question as to where India is placed in the scheme of things in the Pacific, said, "My relationship with the Indian military is very strong and growing stronger."

He recalled, "If you remember the relationship between our two nations, it was, I would offer, weak in the Cold War period. And while it began to be -- become more pronounced in the 1990s, it was again -- the relations were by and large severed after the nuclear weapon tests by both India, Pakistan."

Willard pointed out that "we renewed engagement with India in about 2002 and on the military side we renewed military to military relations in 2004 when I was the 7th Fleet Commander. So, I was having opportunities to engage with India's navy at that time."

"Ever since then, so only for six or seven years, we've been working very hard to improve relations," he said, but added, "there's a lot to overcome in terms of our lack of acquaintance with one another.  Just understanding how we work organisation to organisation has been an important part of the relationship-building."

But Willard said, "Right now, all of our services engage at a pretty robust pace with the Indian armed forces. We are exchanging on issues ranging from extremism, counterterrorism, and counterinsurgency to maritime security in the Indian Ocean region."

Thus, he reiterated, "So there is a very robust engagement with India. I think President Obama's visit and the visit of our cabinet members and many leaders within the United States to India, and vice versa, have been a good illustration of that."

Meanwhile, asked about how the Pacific Command views the burgeoning military ties between China and Pakistan and how it would impact on the Asian region, Willard said, "Certainly the relationship between China-Pakistan is very pronounced. They have a very strong government-to-government as well as military-to-military relationship, have had for a long time."

"And certainly," he added, "It counts in the overall security dynamic within South Asia, which as we all know, is very complex, given India's neighbourhood and long history with Pakistan, the Kashmir issue, the contested border between India-China along the northern reaches -- frontiers of India, Afghanistan, Central Asian states, and the overall dynamics of the region."

Willard said, consequently, "We certainly pay attention to and understand the relationship between China-Pakistan. One thing I think that we should account for is the inherent convergence and interest by all nations and that is a stable Pakistan and a favourable outcome and ultimately stability in Pakistan, Afghanistan, and security in and around India."

He argued that he believed, "China recognises, just as the US does, the importance of an outcome in all of this where Pakistan is -- winds up a very stable and peaceful state, and Afghanistan, Pakistan, India relations continue to be stable and managed."

Wiilard said, in such a situation, "China's interests and US interests in the region, while we don't spend a lot of time dwelling on this, are inherently convergent and desire a stable South Asia."