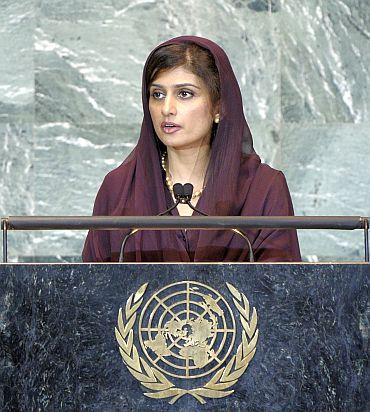 Pakistan government is determined to eliminate terrorism from not just its own soil but also from the region and the world, Foreign Minister Hina Rabbani Khar has said.

Khar told the United Nations General Assembly on Tuesday that Islamabad believes that it is important to enhance international cooperation to totally obliterate terrorism in all its forms and manifestations. 

"It is Pakistan's firm determination not to allow any space on its territory for militants and terrorists. At the regional plane, we must all pledge that our respective territories will not be allowed to be used against others by terrorists," Khar said.

The foreign minister, who met with her Indian counterpart briefly during a reception at the Pakistan's Permanent Mission to the United Nations where Krishna was invited, said that the 'issue of organising, financing, arming, supporting and abetting terrorist violence' needs to be addressed seriously and effectively.

"We must demonstrate complete unity in ranks, avoid any recrimination, build greater trust and more importantly bring about the requisite operational coordination in combating this menace. Otherwise, only the terrorists will gain," she said.

Noting that eliminating terrorism is in Pakistan's national interest, she said, "We believe that our success is critical to regional and global peace and security."

Noting that Pakistan and India are now engaged in a substantive dialogue process, she said Islamabad hoped that the dialogue process will be uninterrupted and uninterruptable.

"We certainly intend to make this engagement fruitful and premise it on the promise of a mutually rewarding enterprise that would enable us to optimally avail the complementarities that exist."

Pakistan, she said, looks forward to resolving all outstanding issues with India, including the Jammu and Kashmir dispute, which she said is among the oldest on the agenda of the United Nations and the subject of several Security Council resolutions.

"A peaceful resolution that accords fully with the aspirations of the Kashmiris, is a sine qua non for durable stability," she said, adding that there is need for safeguarding of the fundamental human rights of the Kashmiri people.

"The reality of a nuclearised South Asia, imposes on both Pakistan and India, the onerous responsibility to work together for creating mutual confidence, avoiding an arms race, and enhancing strategic stability. We look forward to moving in this direction in the dialogue process."