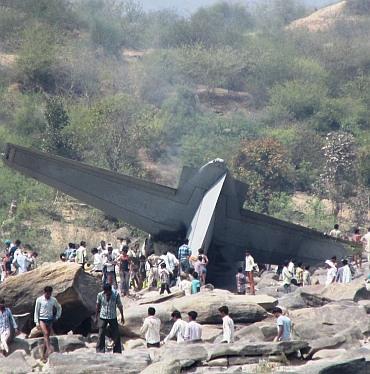 The black box of the C-130J transport aircraft that crashed near Gwalior on Friday has suffered damage and the Indian Air Force has sent it to the United States to seek the assistance of its manufacturer Lockheed Martin in decoding the data, officials said on Sunday.
The connectors of the Flight Data Recorder or the black box are damaged along with the card inside the Cockpit Voice Recorder.
"To avoid any loss of data while trying to decode the equipment, we have decided to send the black box to the US," an IAF spokesperson said here.
The black box was sent by an early Sunday morning flight to Lockheed Martin, he said.
The delay in decoding the black box data would also mean a delay in determining the cause of the crash, he said.

The IAF had stated on Friday that it would come out with a preliminary report on the reasons behind the mishap in 24 hours.
The IAF spokesperson also denied reports suggesting that the C-130J fleet has been grounded after the crash, saying the aircraft did not fly on Saturday as the personnel of the squadron were busy in the last rites of the five victims of the crash.
The Super Hercules Special Operations transport aircraft crashed near Gwalior killing five crew members on Friday last after taking off from Agra.
The aircraft had apparently hit a hillock before crashing on the rocky surface on the banks of Chambal river near Gwalior.
India had recently inducted six C-130J Super Hercules aircraft, which were bought from the US at a cost of around Rs 5,780 crore ($962 million) four years ago.
The home base of the 77 squadron 'Veiled Vipers' operating the aircraft is Hindon in Ghaziabad near Delhi.

The aircraft were recently landed on the Daulat Beg Oldie air field near the China border and have helped in boosting the IAF's capability to airlift troops closer to the border in times of emergency.
On the demands of the IAF, the defence ministry recently placed orders for six more such aircraft from the US.
The loss of such a big asset is considered a setback for the IAF