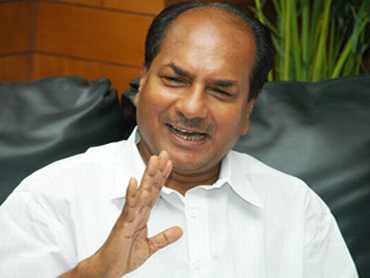 The annual meeting of the defence ministers of India and Russia, slated for Thursday, has been deferred till October 10 due to inability of the visiting minister to reach New Delhi.
The India-Russia inter-governmental commission on military-technical cooperation between Defence Minister A K Antony and his Russian counterpart Anatoly Serdyukov is being held to take stock of the defence relations.
"The meeting of the India-Russia inter-governmental commission on military technical cooperation, which was to be held on Thursday has been deferred due to the inability of the Russian co-chair of the commission and the Defence Minister Serdyukov to travel to India as scheduled," a defence ministry release said in New Delhi.

The meeting will now be held on October 10 in New Delhi, it said.

The Russian side has conveyed to India that its defence minister was required to stay back home for his "urgent participation" in a programme of the President, the statement said.

At the meeting, India is expected to raise the issue of delay in delivery of aircraft carrier Admiral Gorshkov. The delivery schedule of the 45,000-tonne warship has slipped further after it encountered engine malfunctions during sea trials in Russia.
The ship, rechristened INS Vikramaditya, was scheduled for commissioning into Indian Navy by December 4, this year but Russian media reports have suggested that it would now be delivered only in October 2013. The aircraft carrier is now expected to reach Indian waters in the second half of next year.

Navy officials said so far India has not thought of levying any penalty on the Russian shipyard but said as per the Defence procurement procedure, the defence ministry can penalise foreign vendors if there are major slippages in delivery schedules.
The deal for the Russian aircraft carrier was signed in 2004. But the price of the ship was renegotiated and later put at $2.3 billion after repeated cost revision demands by the Russian side for repair and overhaul.

The officials said the two sides will also hold discussions on the delays in other projects such as the three Talwar Class follow on projects.

Other issues which are expected to come up for discussion are the problems in the supply of spares for the Russian equipment in Indian inventory and their maintenance.

Image: Defence Minister A K Antony