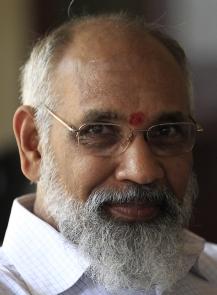 India played an instrumental role in ensuring the holding of polls in Sri Lanka's Tamil-dominated Northern Province and it must now assist in rebuilding the war-ravaged region, newly elected Chief Minister C V Wigneswaran said on Tuesday.
"Thanks to India, the Northern Provincial Council elections were held. I am here because India almost had a hand in the elections being held when the (Sri Lankan) government as saying we are not going to have it or we are going to crap the 13th amendment and so on," he said a day after he was sworn in as the first elected Tamil chief minister.
"Not that India brought me in but India, in an indirect way, was instrumental in allowing the provincial council elections to take place after 25 years," said Wigneswaran, whose Tamil National Alliance swept the polls.
"They decided to have it, so because the elections were held I was able to win it," he added. Ahead of his meeting with External Affairs Minister Salman Khurshid, he called on India to follow up by helping the development of the region.
"How best India can help us is a technical matter, but India's help in the war-torn society is absolutely essential. We are looking forward to it," he told Indian reporters in Jaffna.
The polls last month were the first since the Tamil Tiger rebels were defeated by Sir Lankan forces to end decades of ethnic conflict.
Asked about his impression of the Sri Lankan government's commitment to fully implement the 13th amendment for devolving powers to provinces, Wigneswaran said, "Its lip service is commitment, I do accept that."
Referring to the government's move to ask a Parliamentary Select Committee to decide on implementing the 13th amendment, Wigneswaran said the parameters for discussion need to be laid down. "Where these parameters take us need to be laid down," he said.
Wigneswaran also referred to the agreement between India and Sri Lanka for parleys between fishermen's representatives on the release of scores of jailed fishermen, and said officials too should hold talks on this issue. "But ultimately the fishermen know their problems," he added.
On his meeting with President Mahinda Rajapaksa yesterday when he was sworn in as Chief Minister, Wigneswaran only said Rajapaksa is a good "public relations" man.
Wigneswaran said his council has both long-term and short-term plans for the development of the region. "The long-term plans are political ambitions which are difficult to get entangled into right now," he said without elaborating.
"Short-term goals are to help war-affected families, re-establish their lives and repair their houses," he said.
He further said the "centre has to take us on a different footing" in the matter of allocating finances. The government has said that finances will be equally distributed among the provinces. But Wigneswaran said, "This does not appease us as we are a war-affected province."
Apart from normal funding, the centre can allocate finances from consolidated funds. "Other provinces don't have to face the problem we have," he said.
"We need to have discussions with the government on taking help from donor governments, including India."