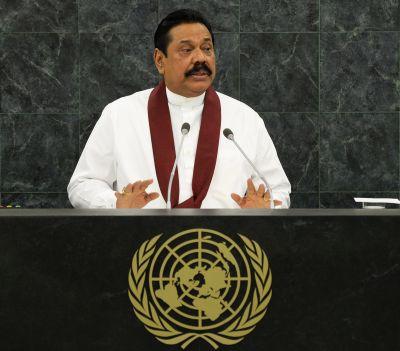 Sri Lankan President Mahindra Rajapaksa on Tuesday told the United Nations General Assembly that Colombo is concerned over the growing trend of international interference in the internal affairs of developing countries in the guise of concern for security and human rights.
He said the time had come to evaluate whether turbulent movements for political change had led to greater stability in such countries or had produced the opposite result.
"The world needs no policing by a few states, particularly when the United Nations is mandated to ensure international security through multilateral engagement," he said, emphasising that such engagement must extend to protecting humanity against nuclear and chemical weapons.
Citing the recent election in Sri Lanka's Northern Province, he said it had been crucial in promoting political empowerment and reconciliation. He urged the international community to assist with that process and to ensure its success for the benefit of all Sri Lankans.
The president felt that despite his country's consistent engagement with United Nations mechanisms, there was a 'disproportionate emphasis' on Sri Lanka, which faced unequal treatment through the multilateral framework.
"The UN system should be astute enough to ensure the consistency of standards applied, so that there is no room for suspicion or manipulation by interested parties to fulfil their agendas," he added.
Image: Sri Lankan President Mahinda Rajapaksa addresses the 68th United Nations General Assembly at UN headquarters in New York
Photograph: Brendan McDermid/Reuters