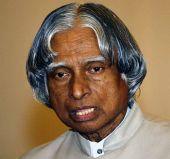 India plans to produce about 20,000 mega watt of nuclear power keeping safety features in mind, former President A P J Abdul Kalam on Friday said as he certified the Kudankulam atomic plant as safe.
"India has plan to produce 20,000 mega watt of nuclear power. It is important because it is clean energy. We have lot of thorium reserves. Of course we are now using uranium based nuclear reactors. Another decade's time we will be thorium based. We will be comfortable," Kalam told PTI in Beijing when asked to comment on China's move to lift the temporary ban on construction of a host of new nuclear power plants.
Asked about China's recent move permitting a "very small number" of its 40 new nuclear plants whose construction was stopped after the 2011 Fukushima disaster in Japan, Kalam said: "India is anyway going ahead with its plans keeping safety features in mind."
According to reports, about 40 new plants were under construction in addition to 13 functioning plants in China.
Asked about continued protests against Kudankulam plant which he earlier visited and certified it as safe, Kalam said: "It is a democratic nation. We can't say people cannot debate and discuss... I visited the plant. It has four safety locks. I have compared it with the features of Fukushima and what we are going to have at Kudamkulam. So I have analysed and given (opinion) on what the safety inter lock system" is.
Kalam said nuclear power is important as thermal power generation required thousands of tonnes of coal causing environment damage, while nuclear power need tonnes of uranium to run nuclear plant.