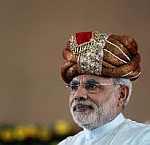 Following the cancellation of Gujarat Chief Minister Narendra Modi's keynote address at the Wharton India Economic Forum, it transpires that main sponsor Gautam Adani, chairman of Gujarat-headquartered Adani group, opted out of the event some time ago.
"Mr Adani had conveyed his inability to join Wharton India Economic Forum long back as he has other pressing commitments," a group spokesperson said on Monday.
"Our participation at the event is just by way of sponsorship," he said.
The prestigious WhartonSchool on Sunday cancelled the keynote address of Gujarat chief minister following uproar from a section of university professors and students.
The forum, an annual India-centric conference, is hosted by the WhartonSchool of the University of Pennsylvania.
Modi had been invited to deliver the keynote address at the Forum to be held in Philadelphia on March 22-23 via video-conference, and Adani group was the platinum sponsor of the event.
Post 2002 Godhra riots, Gujarat CM has been denied US visa, but recently US-India Business Council had participated in the state's biennial event Vibrant Gujarat Summit-2013 in January.
Earlier in the day, former Union Minister and Shiv Sena leader Suresh Prabhu had said he was calling off his visit to Wharton in protest against cancellation of Modi's address.
"It was Wharton which invited him. Modi did not ask that he be invited. And if you are calling off the invite, I think it is not only an insult to the Gujarat chief Minister but to the entire country," Prabhu said.
On the reason for cancelling the Wharton visit, Prabhu said, "I have been a regular speaker at colleges and universities all over the world, be it in the United States, Japan, Singapore or the Middle East.
"I find this (Wharton snub to Modi) a ridiculous decision. Modi did not ask that he be invited. He is a democratically elected leader, a three-term CM. Modi is not someone who has been hoisted on somebody. He has been elected as representative of people in fairly conducted polls by the Election Commission," he said.
"The university should be a place where divergent views are debated. Such a decision, that too by a varsity in the US, is unfathomable," he said.
"Gujarat is a leading developed and industrialised state in the country. All businessmen, be it Tata, Ambani or global business leaders, are coming to Gujarat," Prabhu said.
Asked if he had spoken to Modi and conveyed his decision to call off his Wharton visit as a mark of protest, Prabhu said, "I have so far not spoken to Modi."
The Wharton School forum cancelled Modi's address, saying it fears polarising reactions if Modi is invited, after a group of professors and students there had protested over his invitation. Modi was scheduled to deliver the keynote address via videoconference later in March.
A group of Wharton's professors and students had written a strongly worded letter, saying they are outraged to learn that the forum has invited Modi as a keynote speaker. "This is the same politician who was refused a diplomatic visa by the US on March 18, 2005 on the ground that he, as the chief minister, did nothing to prevent a series of orchestrated riots that targeted Muslims in Gujarat," the letter noted.