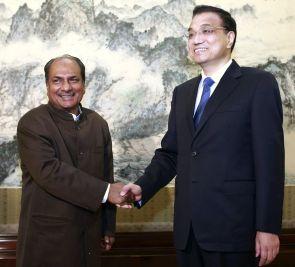 Committing to maintain peace and tranquility on the boundary, India and China on Saturday agreed that it was an "important guarantor for growth in ties and in this context pledged to early conclusion of negotiations on a proposed pact aimed at avoiding flare-ups on the border.
After the talks between Defence Minister A K Antony with the Chinese leaders, the two sides agreed on a slew of confidence building measures, including having greater frequency of meetings at the border and increased exchange of visits of both young and senior armed forces officials.
In a joint statement after Antony's meetings with Premier Li Keqiang, his counterpart Gen Chang Wanquan and state councilor Yang Jiechi, the two sides said "defence exchanges were an important facet of the India-China strategic and cooperative partnership for peace and prosperity."
"Noting that peace and tranquility on the border was an important guarantor for the growth and development of bilateral cooperation, the ministers emphasised the importance of enhancing mutual trust and understanding between the two militaries...," the joint statement said.
"Appreciating that border defence cooperation would make a significant contribution in maintenance of peace and tranquility, they agreed on an early conclusion of negotiations for the Border Defence Cooperation Agreement between the two Governments," it said.
China had proposed the BDCA in January to India but after the incident of incursion by the Chinese troops in April, the movement on the proposed act increased.
The Chinese defence minister also accepted the Indian invitation to visit India next year.
Image: Chinese Premier Li Keqiang shakes hands with Defence Minister A K Antony in Beijing on Saturday
Photograph: Reuters