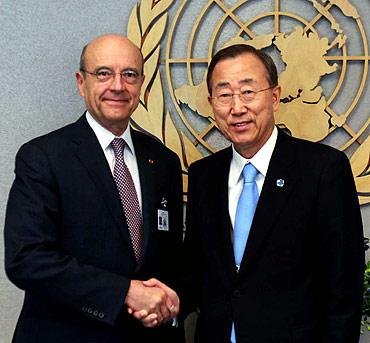 India on Tuesday pledged support to United Nations Secretary General Ban-Ki moon's re-election for the second term.
On Monday, Ban Ki-moon announced his bid to seek re-election to the top post of this world body.
"The Asian Group at the UN met in New York on June 6, and endorsed by acclamation the candidature of UN Secretary General Ban Ki-Moon for a second term.  India's Acting Permanent Representative, ambassador Manjeev Singh Puri, was present at the meeting and conveyed India's support in the matter," a ministry of external affairs spokesperson stated.
"The chair of the Asian Group is writing to the president of the General Assembly and the president of the Security Council, informing them of the decision of the group," he added.
Major powers like United States, France, China and Japan have already pledged support for BanKi-Moon's reelection.
Image: French Foreign Minister Alain Juppé with UN secretary general Ban Ki-moon in New York
Photograph: Jay Mandal/On Assignment