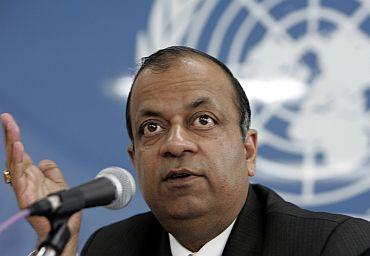 United Nations chief Ban Ki-moon has appointed Atul Khare of India as head of its Change Management Team tasked with suggesting reforms to make the global organisation work more efficiently.
Khare, who has also served as the assistant secretary-general for UN peacekeeping operations, will lead the CMT, which will guide the implementation of a forward-looking reform agenda, the UN said in a statement.
The agenda includes "formulation of a comprehensive plan to streamline processes, increase accountability and improve the effectiveness and efficiency of the organization in the delivery of its mandates."
"The establishment of the CMT is a further step in the efforts of the secretary-general to strengthen the UN as it is called on to play an increasingly prominent role in a period of rapid change and financial constraint and build a management culture focused on excellence and result," it said.
Khare has also served as the special pepresentative of the secretary-general for Timor-Leste and Head of the UN Integrated Mission in Timor-Leste from December 2006 to December 2009.
During his stint with the Indian Foreign Service, Khare served in France, Mauritius, Senegal, Thailand and the United Kingdom, as well as the Mission of India to the United Nations in New York.
Image: India's Atul Khare is appointed the head of the CMT which will suggest reforms to make the global organisation work more efficiently 
Photograph: Crack Palingg/Reuters