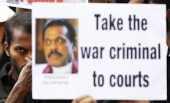 Students across Tamil Nadu, including in Chennai, continued their protests on the Sri Lankan Tamils issue while some fishermen in Nagapattinam district observed a fast mid-sea.

Around 500 students were arrested in two different incidents at Chennai when they tried to proceed towards the house of Union Finance Minister P Chidambaram to picket it, police said.

Another group of students were arrested for trying to stage a protest near the Sri Lankan Deputy High Commission. Various student bodies and political parties conducted a series of protests including demonstration, fast and rail and road blockade. An effigy of Sri Lankan President Mahinda Rajapaksa was burnt by protestors here,police said.

Twenty students, who tried to barge into the army office of the ATNK and K (Andhra Tamil Nadu Kerala and Karnataka) area in Chennai, were arrested, police said.

At Coimbatore,about 1,000 women belonging to the Marumalarchi Dravida Munnetra Kazhagam women's wing went on a day's fast on the Tamils issue. The workers, led by state secretary, Kumari Vijayakumar, shouted slogans against the Lankan government and Rajapaksa besides the Centre for its "failure" to safeguard innocent Tamils there.
Some 150 lawyers also observed a day's fast in front of the District Court Complex and are boycotting court proceedings till Friday, police said. Meanwhile, some persons, belonging to Hanuman Sena and 'Gandhiya Narpani Manram', were taken into custody for attempting to stage picketing in front of the Central Telegraph office near the Coimbatore district collectorate, police said.
Over 200 students were arrested for entering the BSNL premises at Erode and trying to lock it, police said.
In Nagapattinam district, more than 200 fishermen of Chinnagudi near Porayar ventured into the sea in fibreboats and went on a mid-sea hunger strike, 100 metres from the shore, protesting the alleged human rights violations in Sri Lanka while their relatives observed fast on the shore.
In neighbouring Puducherry, traders and businessmen observed a bandh to express solidarity on the Tamils issue.