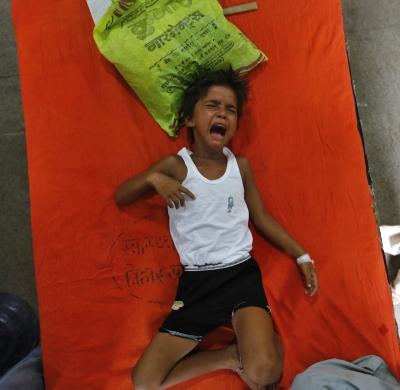 You know how, given the right lighting and the right positioning, you can project huge dramatic shadows onto a screen with nothing more than a couple of wiggling fingers? The India show we take around the world, and around India at election time, is a bit like that.
The midday meal tragedy in Gandaman village in Bihar, in which over 20 children have already died after eating food that appears to contain traces of insecticide, is a horrific glance at the reality behind some of our great dancing shadows, in this case the Right to Education Act and the midday meal scheme. Gandaman is only one particularly terrible instance of a lousy general trend -- children all over India regularly suffer food poisoning and poor nutrition from a scheme that is meant to benefit them.
India has good laws on paper. Making the laws generates a sense of action, which too often remains just that: the impression that something is being done. The right to education law mandates one teacher to 30 students, but tens of thousands of so-called schools do not have a building, or have just one classroom, or one teacher for close to a hundred students, or one teacher for all grades of the entire school, or a hastily built building that would be a school if only teachers came to work.
The right to health is part of our right to life, but an unholy number of rural primary health care centres are squalid places staffed by unqualified doctors, providing almost nothing by way of medicine.
You can make a law for the right to food, but ration shops continue to sell goods at market prices and pocket the difference; food storage facilities remain inadequate where grain is abundant; distribution and delivery continue to simply constitute one long chain of commission-making opportunities.
We have laws that guarantee equality with no discrimination against gender or caste, but the police, the judiciary and the executive are themselves steeped in such prejudices.
In other words we, as a society, don't give a rat's ass about our people.
If this doesn't upset our national conscience on moral grounds (morality being deeply unfashionable), it should on economic grounds. How can a country that will soon have the world's largest pool of young people deal with them when it does not prioritise human capital through health, education and gender equality? This is not just a government or bureaucratic or systems issue, it's a cultural issue.
Families and communities are the first to bar children (their own or others') from attending certain schools, eating certain foods, or spending money on health -- depending on whether the child is female or Dalit or otherwise perceived as inferior.
Where, in this mess, is accountability? Well, that's the nice thing about shadows rather than brick-and-mortar action: everyone can skip back a step or two saying, "Not me".
Human Resources Development Minister M M Pallam Raju called the event "unfortunate" and said that "we need to strengthen the scheme and ensure better implementation," which is what you say when you are trying very hard to say nothing.
The Bihar government reportedly ignored repeated warnings about the quality of the midday meal in the state. The principal of the school in Gandaman, who allegedly forced the cook to use the insecticide tin as a cooking vessel or use bad oil depending on what you read, has locked her house and disappeared into the night.
The anguished protests of parents in Gandaman -- burying children in the school premises and burning vehicles -- demand accountability in a system that seems to specialise in not taking responsibility.
India is lousy at listening to poor Indians, but its feelings are extremely tender when it comes to criticism from the rest of the world. You would think that being outdone by Bangladesh in terms of life expectancy, child immunisation and infant mortality might spur us into action -- but all we have achieved is the fine art of deflection.
Whether or not the Gandaman incident is, as the Nitish Kumar government is alleging, a political conspiracy, the point remains that meals served to Indian schoolchildren need stringent quality control. Gandaman is a particularly tragic case, but it is equally tragic that thousands of schoolchildren all over India are constantly getting sick.
If India really wants to develop, it will have to find ways to back up laws with quality action, not shoddy tokenism. If we want to use our finest resource, we have to start taking our citizens seriously and treating them like worthwhile investments.
The option, if you stick with mere projection, is a shadow republic full of sound and fury, signifying nothing.
Image: Khushi Kumari, who is sick, cries in pain as she lies on a bed inside a hospital in Patna after she consumed contaminated meals ' Photograph: Adnan Abidi/Reuters