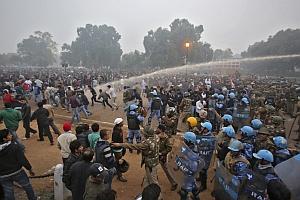 'The protest I participated in the morning was hijacked later in the afternoon by self-serving politicians and people who perhaps had other agendas to pursue,' Aseem Chhabra notes in this first person account of what happened:

The messages had been mixed from the beginning of the protests, following last week's shocking gang-rape of a 23-year-old young woman in a moving bus in south Delhi.

Even during the quieter candlelight vigils at India Gate, there were loud voices of hysteria calling for death penalty for the alleged rapists, and disturbing demands like chemical castration, which would probably turn the Indian democracy into a State with Taliban form of justice.

But this whole week, while I was in Delhi, I was more than curious about the protests that were growing larger by the day at India Gate. The latest tragedy and growing cases of rape in and around Delhi and other parts of India called for major action -- greater police protection for women, faster legal responses to the crimes and, most important, a drastic change in Indian society where women are often treated as commodities, as second grade citizens to be tossed around by the men in their lives.

On Saturday the protestors had attempted to reach all the way up to Rashtrapati Bhavan and the Delhi police used teargas, water cannon and even a lathi-charge to disperse them. But still, on Sunday morning, when a friend sent out a tweet saying that protestors were gathering near Humayun's tomb, I decided to join the group.
At noon there were about 100 people gathered at the meeting point, mostly students from Delhi's Jawaharlal Nehru University -- my alma mater. Wrapped in jackets, sweaters and scarves, they were prepared with large signs and placards. The surprise for me was to meet two JNU professors, who were my peers at the university 31 years ago.
In half hour the group got bigger, as a busload of JNU students joined us and we started the march to India Gate on the flyover that leads to Dr Zakir Hussain Marg. The JNU Student Union president -- a member of the Students Federation of India, the student wing of the Communist Party of India-Marxist -- was there, along with many participants from the All India Students' Association and All India Progressive Women's Association -- both groups affiliated with the CPI-Marxist-Leninist.
My life had come full circle. Just as three decades ago, I was again on the streets of Delhi with left-wing student groups and surrounded by spirited slogans that had not changed over time. Another JNU professor handed me a small placard that said in Hindi that the death sentence and hanging were not the solution to increasing cases of rape in India.
Walking among a large number of red flags, and even a couple of Indian national flags, I heard the marchers yell out 'Lal Salaam', 'Inquilab Zindabad', 'Dilli police Hai-Hai', and 'Dilli police sharm karo. And there were calls for azaadi, women asking for freedom from patriarchy, and the desire to dress as they wanted to and whenever they wanted to without being questioned by society.
The Delhi police had reportedly imposed Section 144 of the Criminal Procedure Code, banning gatherings in the India Gate area, but we were able to walk peacefully all the way up to Delhi's central section.
We did see some police along the way, outside the Golf Club -- perhaps assuring security for Delhi's elite -- but the protest was peaceful. The protestors were spirited, somewhat angry after Saturday's clashes with the police and naturally about the issue of rape, but they were under control.
As we reached India Gate, I made it clear to a friend who was marching with me, along with his two European tourist friends, that I would leave the gathering if things turned violent. I had no plans to get arrested, or lathi-charged.
At India Gate, suddenly the picture became clearer. There was indeed a massive police presence, along with several television vans and large cameras. There were also many more protestors who had gathered.
In one such group I saw many protestors carrying placards that called for the death sentence and hanging of the alleged rapists in the gang rape case. I saw two young girls standing with placards that boldly stated the word 'castration'. And I wondered if they even knew the meaning of the word or what the act entails.
We stood along with our original group of protestors looking straight at Rajpath all the way up to Rashtrapati Bhavan. And although it was a cold foggy day, one thing was clear -- the police had completely shut down the entire Rajpath. It was a very surreal sight.
That is when I first heard a loud explosion, perhaps like a gunshot. It was followed by smoke at a distance. "That's teargas," I told the two Europeans, who started to run. Within seconds there was another explosion and I saw a smoking teargas shell land just five feet away from me.
And so I ran too, back to India Gate where things appeared a lot calmer, although there were other dispirited groups yelling slogans such as 'We Want Justice.' Some had decided to sit on the street right besides India Gate.
We heard another tear gas being shot towards the protestors and that was enough indication for us to leave the area altogether. I spent the rest of the afternoon at home following reports of more and more violence as the protestors were joined by Arvind Kejriwal, Baba Ramdev and then according to one media outlet youth groups affiliated with the Bharatiya Janata Party also showed up.
By the evening one police constable was fighting for his life and over 40 protestors were injured. Images from India Gate showed that what started off as a peaceful protest had turned the area into a war-like zone.
Bloggers and other folks on Twitter were trying to figure out which political groups were responsible for the protests turning violent.
I had joined the protest hoping something good would come out from the demands for a change in the police's policies and practices, and society at large.
I had naively believed that for the rape-related crisis to be resolved the young protestors would have walked along with the police, with the hope of eventually working out issues with the elected officials and the law enforcement personnel.
The protest as I participated in the morning was hijacked later in the afternoon by self-serving politicians and people who perhaps had other agendas to pursue.
The day ended with a wider gap between the authorities and the protestors, and I do not know if there is a middle ground to resolve the crisis.
Image: The Delhi police use water cannons on demonstrators during a protest near India Gate in New Delhi on Sunday. Photograph: Adnan Abidi/Reuters