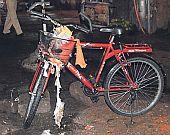 The police are on the verge of busting the Indian Mujahideen module, which executed the Pune blasts of August 1.

On Friday, a fifth person named Maqbool was picked up from Hyderabad in connection with the case.

Police allege that Maqbool assembled the improvised explosive device used during the blasts.


Maqbool, a Hyderabad-based operative, was initially part of the Indian Muslim Mohammadi Mujahideen outfit. Through this outfit he is said to have got in touch with the Indian Mujahideen operatives and was later roped in for the execution of the Pune blasts.


Earlier, the police had picked up another operative, Irfan Mustafa from Jaipur. He is said to have helped with providing logistics and planting of the bomb.


The case was cracked when the Delhi Police picked up three persons -- Asad Khan, Imran Khan and Syed Firoze.

While the Delhi Police say that the trio had played a part in the Pune blasts, they also pointed out that the same module had been planning more strikes in the country.

On the cards was a strike at Delhi and also at Bodh Gaya.


The police said that there are at least four more persons attached to this module who are still absconding and hope to nab them soon.

They added that the module was under the control of Yasin Bhatkal, who is still at large and is believed to still be in India.