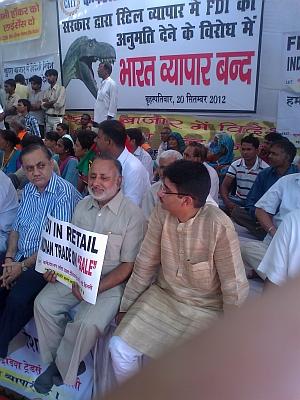 Bhartiya Janata Party president Nitin Gadkari on Thursday claimed that the 'Bharat Bandh' to protest against diesel price hike, Foreign Direct Investment in multi-brand retail and cap on subsidised LPG was a great success and hoped the 'most corrupt' government since Independence has got the message and would roll back prices of diesel and not allow investments by the big international such as like Walmart to invest in India in the wholesale market.
"I went to Walmart and found that most of the stuff on sale was Chinese, which is cheaper. Letting these chains to come to India would not be in the interests of the small-time shopkeepers and Indian chains. Over 35 crore people would be effected and their jobs would be at the stake," Gadkari said.
He denied that the party had kept senior leader L K Advani out of Bharat Bandh. "He is the senior-most leader of the party and we have been keeping him out of the street battles," Gadkari said. 
He refused to comment if he agreed with Advani that the special session of Parliament should be called to discuss the current problems.
"I cannot say anything about it. The current government has cost the nation 4.35 lakh crores in the telecom, Commonwealth and coal scams. If the government doesn't withdraw the decisions of rise in diesel prices and foreign equity in wholesale markets, then we will raise the issue both on the streets as well as Parliament," Gadkari told the media.
Asked if his party was ready for mid-term polls, Gadkari said that this was not the time to discuss the matter. "If the present government falls, it would be because of bad economics," he said.
Image: Protesters in New Delhi. Photograph: Onkar Singh