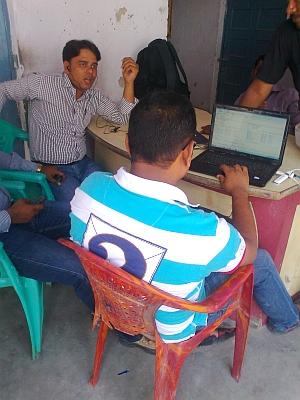 Abdul Qadir, the local muezzin of the local mosque who filed a complaint for action against the persons in Friday's Ghaziabad violence has allegedly disowned his statement. When asked, District magistrate of Gaziabad Aparna Upadhyay has said that she has no idea if Qadir has gone back on his statement.
Speaking to rediff.com on Tuesday, Upadhyay said," I have no idea who wrote the complaint. The local police are heading the investigation and they would be in better position to answer this query".
Qadir told the police, who have constituted a special investigating team to record the statements of key accused that he had not even seen the torn pages of the Quran late on Monday afternoon. 
"The person who actually wrote the reports was Zalil-ur-Rehman. It was written in Hindi. What was read to him wasn't the same as it appeared in the First Information Report. He has since then vanished. According to the FIR, four torn pages of the Holy Quran were thrown out Varanasi-bound Kanshi Express near Adhyamic Nagar. Since I did not see the pages being thrown from the train, I disown the statement," Qadir told the police team.
He denied being present at the station when these pages were thrown, he said in response to a question. Attempts to confirm Qadir's denial proved futile as Senior Superintendent of police Prashant Kumar was in a high-level meeting with his officers.
When asked if the exodus had begun again, he said that he no idea about the second exodus. A leading national daily had carried a report of exodus of over 5,000 Muslims. The Masuri police has registered an elaborate FIR against unknown persons who took part in the riots on September 14 at three different places. 
Local mediapersons have been virtually camping at the Masuri police station in hope that there may be a sudden development. "The local press has been keeping a close eye on developments on a minute-to-minute basis, virtually making it impossible to carry on investigations," said a senior police officer.
Delegations of people headed by Muslim leaders are keeping the district administration busy by asking them not to take any action as it may further deteriorate the situation. Local Hindu shop owners have downed their shutters to protest against inaction by the district police by refusing to arrest those who indulged in violence.
Image: Local mediapersons camping at the Masuri police station
Photograph: Onkar Singh