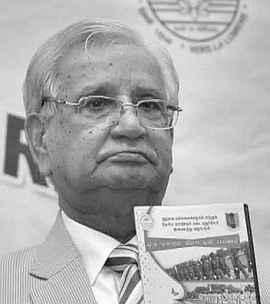 Puducherry's outgoing Lieutenant Governor Virendra Kataria on Wednesday alleged that his unceremonious ouster was plotted by the government here because of his opposition to "wrongdoings" going on in the Union Territory.
The 81-year-old former Congress veteran attributed his sacking to his refusal to become part of the "corrupt system" that prevails in Puducherry.
Kataria, who was appointed in July last year, was removed from his post last Friday.
He alleged that it was because of Puducherry's Chief Minister N Rangaswamy and its chief secretary that he was removed as they were "very upset" with him because he was a big hindrance in their way to "plunder" the Union Territory.
Kataria claimed that he was asked by the chief secretary to be part of the "corrupt system" and alleged he tried his level best to lure him and pressurise him.
"This is a conspiracy of the very people who are involved deeply in wrongdoings," he said, claiming he has earned the wrath of the local administration.
Amid reports that he planned to meet President Pranab Mukherjee, Kataria told reporters he had been punished for his "honesty and good work" with which the present government was "very uncomfortable".
Asserting that he didn't fit in with the "prevailing system", Kataria, a former Punjab Congress president and ex-Rajya Sabha MP, claimed that it was because of his opposition to corruption that he had become "inconvenient" to the ruling dispensation here.
Chief Minister N Rangasamy has termed as "inappropriate" Kataria's broadside against his government.
Opposition AIADMK demands CBI probe
Meanwhile, opposition AIADMK on Wednesday demanded a Central Bureau of Investigation probe into the charge levelled by Kataria against the AINRC government that it plundered public money and let others also indulge in it.
Speaking to reporters in Pondicherry, AIADMK legislature party leader A Anbalagan said Kataria had 'very candidly' pointed out that the All India NR Congress government was plundering the treasury and "corruption is the guiding mantra for the government".
"These allegations against the government-led by Rangasamy are serious and could not be ignored. A detailed probe by CBI is necessary to bring out the truth", he said.
Anbalagan pointed out that his party too had levelled corruption charges against the government, but no probe had been ordered so far.
Image: Former Puducherry Lieutenant Governor Virendra Kataria
Photo courtesy: ANI