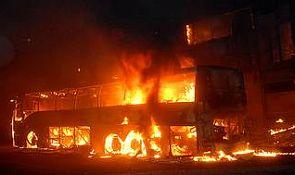 At least 40 passengers have been killed after the fuel tank of their Volvo bus caught fire in a road mishap near Palem village in Mehbubnagar district in the early hours of Wednesday.
The incident occurred around 5:10 am when the Hyderabad-bound bus from Bangalore hit against a culvert, breaking its diesel tank. Within few minutes the bus was reduced to cinders, police said.
The bus, carrying 49 passengers, started from Bangalore at 11 pm on Tuesday night.
The driver along with cleaner and five other passengers managed to escape, police said quoting eyewitnesses.
"It seems the bus was travelling at a high speed when its fuel tank hit the roadside culvert and caught fire. There are some causalities feared as the entire bus has been gutted," a senior police officer told PTI.
According to a senior district official, the bodies were charred beyond recognition and that they were trying to ascertain the number of those dead by obtaining the list of the passengers travelling in the ill-fated vehicle.
The air-conditioned bus had automatic locking system which made it difficult for the passengers to escape to safety.
Since the bodies were found at the rear end of the bus, it gave an impression that the passengers might have tried to come out of the vehicle from there, the official said.
State Transport Minister Botsa Satyanarayana told PTI that an inquiry would be conducted into the accident.

State information minister D K Aruna, who hails from Mehbubnagar district, visited the accident spot.
Traffic on the highway has come to a standstill.