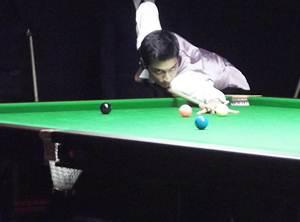 It was a disappointing end to India's campaign in the International Championship as Indian cue sport poster boys Pankaj Advani and Aditya Mehta bowed out of the major ranking snooker event after losing in the first round, in Chengdu, China.
Indian Open finalist Aditya went down 3-6 to England's Rod Lawler, who top scored with 103, while eight-time World champion Advani suffered from food poisoning just minutes before his opening game against Englishman Dave Harold, who defeated the 27-year-old cueist 6-4 in the US $950,000 event.
"Once your health is under attack, it's not much one can do. Given my condition, I am pleased with my performance," Advani said.
"It was unfortunate to suffer the way I did during the match. I look forward to recovering and preparing for the next long stint in England over November and December," he added.
Despite suffering from an upset stomach, which Advani developed as he was walking out to the table to play his match, the Bangalore-based cueist came up with multiple breaks and took the fight into the opponent's camp.
It was a see-saw battle which saw Advani making a comeback on three occasions. Down two frames, Advani won the third at 60-14. Harold again surged ahead with a fine break of 104 in the fourth but the Indian came up with a good clearance in the next to make the scoreline 3-2.
Fully aware of Advani's comeback prowess, Harold upped the ante and reigned supreme on the green baize to take the next two frames with relative ease.
Not the one to give up so easily, Advani overcame the upset stomach to win the eighth and ninth frames and reduce the deficit to 5-4.
With all possible outcomes in place, Harold came out with all guns blazing and displayed some fine potting skills in the 10th frame to seal the issue.
In the other match, Aditya had little to celebrate on his 28th birthday.
The match went on for six hours, one of the longest witnessed in the International Championship, as India's numero uno snooker player resorted to his best tactic - safety play.
Aditya was 2-1 up in the game but let the advantage slip. He again surged ahead at 3-2 but found Lawler levelling the issue with a fine clearance of 68.
At 3-3, the contest looked set for some exciting finish but it was not the case as Lawler reduced Aditya to a mere spectator in front of a sizeable crowd, winning the next three frames in quick succession, which included a fine break of 103 in the eighth.
It was meek surrender by Aditya as suggested by the scoreline of the last three frames -- 88-0, 103-0, 66-8.