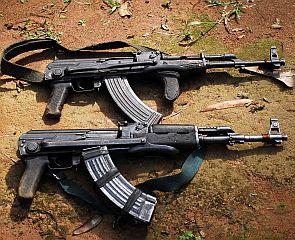 Terror outfit Hizbul Mujahideen pays monthly salary to members associated with it and their "remuneration" has surged around five folds in 2011 compared to what was paid to them in 1990s, the NIA has said in its charge sheet filed before a Delhi court.
In its charge sheet filed against HM chief Syed Salahuddin and nine other members of the banned outfit for allegedly receiving funds of about Rs 80 crore from Pakistan for carrying out terror activities across India, the NIA said active HM cadres receive monthly funds on regular basis.
"Investigation has revealed that each active cadre of HM receives monthly funds on regular basis for his association with the said outfit. This monthly remuneration has increased from Rs 2,000-3,000 per month in 1990s to Rs 10,000-12,000 per month in 2011," the probe agency said.
It also said that the terror outfit had developed a set-up for distribution of funds to its sympathisers and others and also provides money to its cadres for contesting court cases.
"Investigation has revealed that HM developed an excellent set-up for distribution of funds to sympathisers, runners, over ground workers and underground workers, also a mechanism to systematically and regularly fund to next of kins of its cadres killed/injured terrorists is in place," it said.

"HM also provides funds to meet judicial expenses for contesting cases of its cadres who are detained under J & K Public Safety Act, arrested in criminal cases and to those who are facing trial in terrorism cases," the NIA said.

District Judge I S Mehta has taken cognizance of the charge sheet and has fixed the matter for further hearing on December 7.
Besides Salahuddin, the NIA has chargesheeted Mohd Shafi Shah, Talib Lali, Gulam Nabi Khan, Umer Farooq Shera, Manzoor Ahmed Dar, Zaffar Hussain Bhatt, Nazir Ahamd Dar, Abdul Majeed Sofi and Mubarak Shah.
Out of the 10 accused, who all are active members of HM, Mohd Shafi Shah and Talib Lali, both from J-K, were arrested by NIA and are in judicial custody.