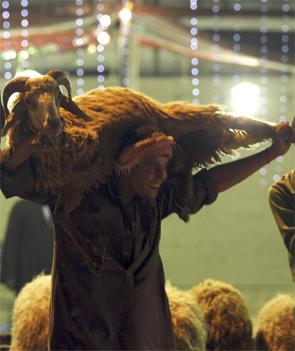 The Jamaat-ud-Dawa, the front for terror outfit Lashkar-e-Tayiba, has come up with yet another innovative way to raise funds for terror activities.
According to a media report, JuD volunteers have been collecting the skins of the numerous animals slaughtered before Eid al-Adha and eventually selling them.
In Pakistan, 5 million sheep and 1 million cows have been slaughtered ahead of Eid al-Adha. The volunteers of the JuD have launched a massive drive to collect the hide of the slaughtered animals.
The JuD sends children and young men, who go door-to-door to collect the skin and bring it to an auction. While the cow hide is sold at $50, the sheep skin is sold for $7. This money is pocketed directly by the JuD and reportedly pumped into the activities of the LeT.
Ghulam Hasan Naiku, an operative of the Hizbul Mujahideen, has talked at length about the skin trade that goes on between Pakistan and Afghanistan.
"We had initiated a similar progamme in Kashmir Valley and had even begun to smuggle the skin to Pakistan, where it was sold to the leather industry," said Naiku.
The terror outfits came up with the idea of trading skin after the Pakistan government was forced to crack down on drug trade -- the main source of funding for terror strikes -- due to international pressure.
Naiku told interrogators that even after paying off volunteers, the Lashkar still made a whopping profit of $8,000,00.
Indian security agencies admit that skin trade is a common practice in India too, though it does not happen at the scale at which it does in Pakistan.
"We had told police from various states to keep a close tab on those who collect the skin of the sacrificed animals. There are procedures that need to be followed while trading in animal skin, otherwise they money can fall into the wrong hands," said the officer.
Intelligence officials point out that terror groups have tried a number of things to raise funds, including poaching endangered animals and selling their skin.
These poachers often form a nexus with the underworld to help these terror groups. This was a major source of funds but soon became a risky proposition due to stringent anti-poaching rules.
Collecting the skin of sacrificed animals and auctioning them through a legitimate channel seemed to be a safer way to raise funds for terror activities.
Image: Livestock dealers and butchers carry a sheep as they dance ahead of Eid al-Adha ' Photograph: Amr Abdallah Dalsh/Reuters