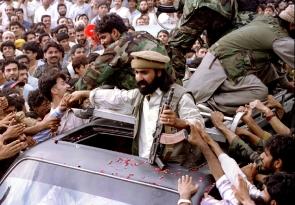 Hizbul Mujahideen leader Mast Gul, involved in the 1995 siege of Charar-e-Sharief shrine in Jammu and Kashmir, was behind a suicide attack on Shias in Peshawar that killed nine persons, a Pakistani Taliban commander has said.
Mufti Hasaan Swati, who claims to be the Tehrik-e-Taliban Pakistan commander for Peshawar area, told reporters he had tasked Mast Gul alias Haroon Khan to carry out attacks on the Shia minority, including the suicide bombing of a hotel on Tuesday.
Swati described Mast Gul as a "militant commander for Peshawar", the Dawn daily reported on Thursday. He spoke to reporters along with Mast Gul at Miranshah in the restive North Waziristan tribal region on Wednesday.
The daily carried a photo of Swati and Mast Gul sitting together before a Taliban banner, AK-47 assault rifles in their hands.
This is the first time in over a decade that 47-year-old Mast Gul has been seen in public. Little was known of his whereabouts since he was injured in an ambush near Peshawar in August 2003. He hails from Sadda in Kurram tribal region, which has for long been hit by sectarian violence.
In March 1995, a group of militants led by Mast Gul, many of them foreigners, holed up inside the 14th-century Charar-e-Sharief for two months. Following the standoff, the shrine burnt down in a mysterious fire in May. The Indian Army said the militants triggered blasts that caused the fire.
Twenty militants, two soldiers and five civilians died in the standoff. Gul and the other militants disappeared.
When he returned to Pakistan, he was given a hero's welcome by the Jamaat-e-Islami, which showcased him at meetings. Though the TTP earlier denied its involvement in Tuesday's suicide bombing of a hotel in Koocha Risaldar, a Shia-dominated neighbourhood of Peshwar, Swati said it was carried out to avenge an attack on a Sunni seminary in Rawalpindi in November. Besides this attack, Swati said the Taliban had killed two Shias -- Tehrik Nifaz Fiqah-e-Jafria Pakistan leader Ali Asghar and a bank manager -- in Peshawar district.
"The attacks were carried out to fulfill the wish of our central deputy emir Shaikh Khalid Haqqani to avenge the death of innocent students in Rawalpindi," Swati was quoted as saying.

Image: Hizbul Mujahideen leader Mast Gul

Photograph: Reuters