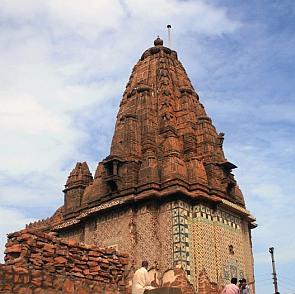 A Hindu ashram was attacked in Pakistan's Sindh province by about four persons who also stole a 'trishul', triggering protests and a partial shutdown of businesses at several places, a media report said on Monday.
The violators also desecrated parrh (a piece of cloth wrapped around the idol) at Faqir Par Braham's ashram in Tharparkar district, a Hindu majority area.
The minority Hindu community came out on streets in all the towns of the district and also staged a sit-in at Mithi's Kashmir chowk. Markets in Deeplo, Islamkot and Chachro towns were shut in protest.
"The Hindu community is being targeted in all parts of Sindh under a conspiracy," Raja Bhawan of Tharparkar's Hindu panchayat, who led the protesters, was quoted as saying by Express Tribune daily.
"We want the government to expose hands behind this," he added.
Tharparkar is currently facing a drought-like situation.
Tharparkar SSP Muneer Shaikh said police have arrested four suspects and the stolen 'trishul' has been recovered.

An FIR has been lodged on the complaint of one Seth Jhaman Das.
The incident came just two days after a temple of Hindu deity Hanuman was desecrated in Hyderabad where police have arrested 12 suspects for interrogation.
Hindus are the largest minority in Pakistan but make up only about two per cent of the country's 180 million population.
Most Hindus live in Sindh province, where there have been several instances of alleged abduction and forced conversion of women from the minority community.