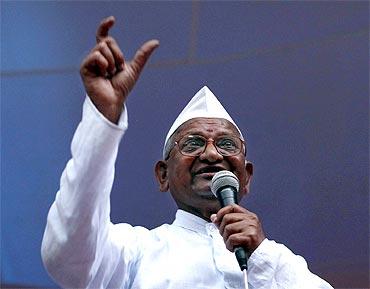 Anti-corruption crusader Anna Hazare on Tuesday reiterated his demand for stringent punishment to those accused in rape cases.  "There should be stringent punishment for the rape accused. Tough laws are necessary," Hazare told reporters in Mumbai.
He was speaking after paying tribute to the Mahatma Gandhi memorabilia bought by an Indian businessman at the International Airport. Former Army chief V K Singh was also present on the occasion.
Hazare added that it was also important that family members should inculcate strong values in children. He, however, declined to comment on the recent remarks made by spiritual leader Asaram Bapu and Rashtriya Swayamsevak Sangh chief Mohan Bhagwat in connection with the Delhi gang-rape incident.
"Had Gandhian principles been brought into practice in India, the condition of the country would not have been like this today," he said adding that unless people don't get power to pull down the government, there would be no change in the country.
Hazare, who plans to hold a mega-rally in Patna on January 30, said he would embark on the nation-wide tour to create awareness among people to bring change in the country.
When asked whether he would like Aam Aadmi Party leader Arvind Kejriwal to join the movement, Hazare said, "Whosoever feels that they want a change in the country, should join the movement."
"Our priority is not to change the politics, but to change the people," he said adding that the country which  Gandhiji had envisioned has not been fulfilled.
V K Singh said it was time to bring in 'swaraj' (self-rule) in the country. "Time has come for a change in the country," he said.
Former Union minister and prominent city businessman Kamal Morarka has acquired 29 items of the Mahatma Gandhi memorabilia at an auction in the United Kingdom last year.
The memorabilia will be showcased at tour events throughout the country in order to re-introduce Gandhi and Gandhian philosophy to Indian youth.
The memorabilia includes blades of grass and soil pigmented with Mahatma Gandhi's blood, retrieved from Birla House in Delhi, where he was assassinated in 1948. The purchase was done through the Kamal Morarka Foundation for the Arts.
Other items include Mahatma Gandhi's pair of iconic spectacles, the famous wooden 'charkha' (spinning wheel) which he used, a prayer book signed by him, several letters and other documents pertaining to his life.