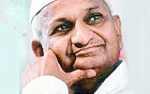 Against the backdrop of strong protests against the gang-rape of a student in New Delhi, Anna Hazare on Monday shot off a letter to Prime Minister Manmohan Singh demanding strong punishment like death penalty or life imprisonment for rapists.
Hazare said that there was a lot of anger among the youth of the country and the government needs to understand that there was a need for change.
"It is the duty of the government to enact new laws to maintain order in the country. If strong laws advocating death penalty or life imprisonment had been enacted by the government, the six culprits involved in the gang-rape wouldn't have mustered the courage to commit such a sin," Hazare said.
The Gandhian, however, added that the government, which failed to make strong laws against such heinous crimes in the last 65 years of Independence, was equally responsible for the crime.
"Why in last 65 years the government didn't amend the laws to introduce the provision of death penalty or life imprisonment for such crimes," Hazare asked.
He warmed the government that it should not "check the patience of people" and should rather work towards framing a strong legislature in this regard.
"In order to maintain law and order in the country people elect the representatives to Parliament and when an incident like this happens in the absence of a strong law people get angry. They are not to be blamed for this," Hazare said.
Hazare alleged that by invoking Section 144 the government was trying to "kill democracy".
"The Constitution has given a right to the people to protest. If the government wants that people should not get agitated to such a level they should enact a strong law to protect women, which is in their hands and is also their duty," he said.