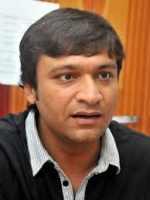 Majlis-e-Ittehadul Muslimeen legislator Akbaruddin Owaisi, who was arrested for his alleged hate speech, was on Wednesday sent back in judicial custody, one day before the completion of his five-day police custody.
A local court at Nirmal town in Adilabad District had earlier granted five-day custodial interrogation of Owaisi from January 12 to 16 and he was to be produced in the court on Thursday.
But a day before completion of five-day police custody period, Owaisi was produced before the magistrate in wee hours today at Nirmal, about 80 kms from here, and sent back to Adilabad district jail. He will be in judicial custody till January 22,
police said.
However, police were apparently not happy with the outcome of the interrogation.
"Owaisi did not cooperate during custodial interrogation and same was informed to the court," a senior police official said. "We have recorded his statement."
"What will we do keeping him in custody further," the official added.
Meanwhile, a petition filed by police seeking court permission to examine the voice of Owaisi in the alleged hate speech is likely to come up for hearing in the Nirmal court on Wednesday, police said.
Owaisi was learnt to have told his interrogators that the voice recorded in CDs was not his and it was "doctored to tarnish him image."
However, police did not confirm it.