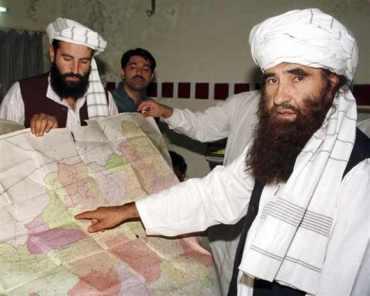 Noted American experts and analysts argue that Foreign Terrorist Organisation designation of the Haqqani Network is meaningless unless Pakistan's intelligence agency is reined it. Aziz Haniffa reports   


Noted analysts and experts have informed the United States Congress that while the Obama administration's designation of the Pakistan-based Haqqani Network as a Foreign Terrorist Organisation is a welcome step, it's utility in tangible terms is meaningless unless its chief sponsor the Pakistani intelligence agency -- the Inter-Services Intelligence -- is reined in with regard to its use of proxies such as the Haqqanis, Lakshar-e-Tayiba, and these groups totally dismantled.
These experts were testifying before the House Foreign Affairs Subcommittee on Terrorism, which is chaired by Congressman Ed Royce, California Republican, at a hearing titled 'Combating the Haqqani Terrorist Network.'
Jeffrey Dressler, senior analyst and team lead, Afghanistan/Pakistan project, Institute for the Study of War, acknowledged that the Pakistan Peoples' Party government "is fairly limited in terms of what they can do against the Haqqani Network."
He said, "When it comes to the relationship between the elements of the ISI and the Haqqani Network, it really runs the gamut." "There are some current and retired Pakistani military officers who are part of this nexus."  He told the lawmakers, "in a classified hearing, you'll probably get a little bit better fidelity on that relationship."
"But sufficient to say," Dressler acknowledged, "There is an element of support there that has endured over the past 30 years. This is a long-standing relationship."
He argued that "as long as the Haqqanis are roughly pursuing the same objectives in Afghanistan as the Pakistani security services, then that relationship will continue unless somebody forces it to be broken."
Lisa Curtis, erstwhile Central Intelligence Agency alumnus, and currently head of the South Asia programme at the Heritage Foundation, a leading conservative Washington, DC think tank noted, "While the ISI doesn't have complete control over the Network, at the same time, it will simply not survive if the Pakistanis were to crack down."
"And if there is any organisation in the world that can influence the Haqqani Network, it is the Pakistani intelligence service," she added.

Earlier, in her testimony, Curtis said, "The Obama administration's designation of the Haqqani network as a foreign terrorist organisation this past weekend is welcome, if not long over due."

She said, "This terrorist designation will facilitate US objectives in Afghanistan by pressuring Pakistan to deal more effectively with the deadly network and assisting the US in attacking the group's financial network."

Curtis argued, "Since Pakistan has failed for over three year to either take military action against the Haqqanis or use its leverage to bring the group to compromise at the negotiating table, US officials had little choice but to corner Islamabad on the issue."

"Pakistani officials repeatedly questioned why they should take military action against the Haqqanis when the US policy toward the group was ambiguous. With this terrorist designation, the US leaves no doubt on where it stands on the issue and thus removes a Pakistani excuse for failing to act against the Haqqanis."

Curtis said, "Up to this point, Pakistani military officials have calculated that the US would acquiesce to a strong Haqqani role in any future dispensation in Afghanistan. (But) with the FTO designation, the US signals instead that it will work to prevent the Haqqanis from re-establishing their base in Afghanistan."

She explained, "The source of the Haqqanis' power lies in their ability to forge relations with a variety of different terrorist groups, while also maintaining links to Pakistani intelligence. Pakistani military strategists view the Haqqani network as their most effective tool for blunting Indian influence in Afghanistan."

Thus, Curtis said, "The overarching goal of the US should be to end Islamabad's dual policies toward terrorism. Islamabad's continuing support for the Taliban, the Haqqani network, and other terrorist groups jeopardises everything the US and NATO have been fighting for in Afghanistan for the last eleven years."

"The onus is on Pakistan to demonstrate it is willing to squeeze insurgents and use its leverage to bring them to compromise. Otherwise, the US and NATO must try to isolate Pakistan in the region, and limit its ability to influence developments in the country," she added.

Dressler said, "From its sanctuaries in Pakistan's tribal areas, the Haqqani family hosts a variety of high-value terrorists," including the Lashkar-e-Tayiba, responsible for the horrific 26/11 terror attacks in Mumbai.

Thus, he said, "Defeating and dismantling the Haqqani Network is therefore critical not only to the security transition in Afghanistan, but also to the US global counterterrorism mission."

Dressler, who spoke of the Haqqani Network's ties to the Pakistani military industrial complex, which he described as "lucrative," warned that "if the Haqqani Network is not defeated or dismantled by 2014, it may overwhelm Afghan national security forces and establish a physical and logistical presence in Afghanistan that will serve to advance both its own jihadist agenda and the geo-strategic interests of the Pakistani security services."

He said that the Haqqani Network has been an effective fighting force and proxy of the Pakistani security services for the better part of 30 years, and that the Pakistani military and the ISI relied on "its Pashtun proxies, such as the Haqqanis, to strike Indian targets in Afghanistan."

It is well documented that the ISI inspired the Haqqani Network's attack on the Indian embassy in Kabul a few years ago.

Dressler said, "It is also possible that the Pakistani proxy strategy is integrated into an overall strategy to contend with the threat of a large scale conflict with India."

Royce in his opening remarks, spoke of how "we were saddened and angered over the killing of an American diplomat and three other US government personnel during an attack on our consulate in Benghazi, Libya.

"Exactly one year ago today, it was the Haqqani network that launched a 20-hour long assault on the US embassy compound in Kabul, which left 16 Afghans dead," he recalled.

"It was after this attack that our then top military officer pronounced the Haqqani Network a 'veritable arm' of the Pakistani ISI, used to pursue its paranoid policy of 'strategic depth' in Afghanistan."

Royce said, "The Haqqani base of operations in Pakistan's tribal area of North Waziristan is the most important militant haven in the region. The Al Qaeda is said to train and plan attacks under the protection of the Haqqani Network there. Indeed, one prominent report finds that, 'the Haqqani Network has been more important to the development of the Al Qaeda and the global jihad than any other single actor or group.' The Haqqani's have plenty of blood on their own hands, killing US and coalition forces."

The lawmaker slammed the administration, saying, "Yet the State Department more than dragged its feet in doing the obvious, blacklisting the Haqqani network. Despite calls from US commanders to act, it kept the case under lengthy 'review.' Frustrated, the Congress -- on a bipartisan basis -- unanimously passed the 'Haqqani Network Terrorist Designation Act of 2012,' signed into law a month ago. This Act spurred last week's designation announcement, which apparently was not an easy one for the administration to make."

"Without Congressional pressure, I'm sure the Haqqanis would have been under permanent review, further shortchanging our efforts against it. It's too bad the State Department was unable to provide a witness to discuss what this designation will mean operationally," Royce added.

"This can't be a case of designate and forget. It's clear that continued Congressional pressure will be needed to ensure that this was just a step toward hammering the Haqqani Network."

Congressman Gerald Connolly, Virginia Democrat, minced no words, in saying that "the Haqqani Network operates with impunity in certain parts of Pakistan with the absolute knowledge of the ISI -- in fact, arguably with their protection. They are not under house arrest."

"So, it's an open secret what's going on," he asked, and argued that "it we were to accept the proposition that while in the case of Pakistan, it's a multi-headed hydra and what can we do, then we are going to accept the proposition, which I find unacceptable that the Haqqani Network is going to continue to operate with impunity in Pakistan and across the border with the protection of an arm of the Pakistani government."

Connolly asserted, "It seems to me, we have to wrestle that issue to the ground if this relationship with the government of Pakistan is to proceed in any kind of healthy, normal fashion. It's an unacceptable proposition to our government and ought to be, and we've just made it even less acceptable with this long desired designation."

At the outset, Connolly also slamming the administration for not sending a witness to testify, said, "What does it mean that the Pakistani ISI has long provided overt protection, including security protection to leaders of the Haqqani Network within the Pakistan borders. And, what does it mean for the level of cooperation that is actually cited in the designation announcement in which Pakistan was referred to as an extremely valuable ally in countering extremism and terrorism."

Connolly asked, "How does that comport in alarming evidence that one branch of the Pakistani government is not cooperating in these endeavours at all when it comes to the Haqqani Network." 

Image: Jalaluddin Haqqani with his son Naziruddin