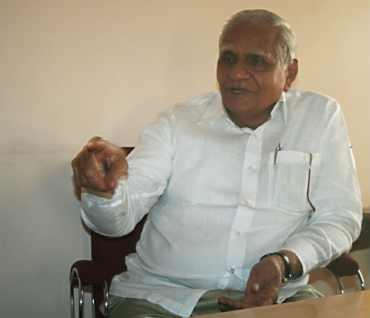 Narendra Modi's elder brother tells rediff.com's Sonil Dedhia that by electing Modi for the third time the people of Gujarat have given their answer to the Congress.

Narendra Modi's elder brother Somabhai Modi is ecstatic about his brother's victory in the Gujarat assembly election. "I am very happy for him. He has proved himself again and as everyone is saying he has completed the hat-trick," said an elated Somabhai.
Modi on Thursday won 116 of Gujarat's 182 assembly seats.
A retired government officer, he now runs an old age home in their hometown Vadnagar, Somabhai said that Modi should continue development work in the state.
"He will address water
problems in parts of Gujarat where there is scarcity. He will also look into the issue of agricultural problems related to irrigation and infertile land."
"I think the people of Gujarat have given their answer to the Congress. They have elected their leader. Modi's development work has convinced the people that he has worked towards the progress of everyone," he added.
Somabhai said that it was still a wait and watch game when it comes to Modi becoming the prime minister. "The six crore people of Gujarat have elected him and now it is up to the people of India whether they want him as the prime minister. My views don't mean anything," said Somabhai.
Image: Narendra Modi's elder borther Somabhai | Photograph: Reuben NV/Rediff.com