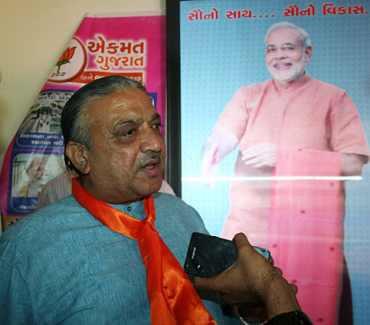 Former Congress leader Narhari Amin, who joined the BJP after being denied a party ticket, says that Thursday's victory indicates a people's faith in Narendra Modi. Sonil Dedhia reports from Ahmedabad.  


Narhari Amin, former Congress strongman, who was denied a party ticket and joined the Bharatiya Janata Party on the eve of the Gujarat elections, said, "The people of Gujarat have once again chosen Narendra Modi as their leader because they are happy with his work in the last 11 years."
He asserted that the people in Gujarat feel that they are safe and secure in their homes under Modi. "There hasn't been a single day since Godhra when Gujarat has seen riots or even a curfew. This is a big achievement for the BJP."
He further mentioned the BJP's main agenda in the next five years would be the development of the state by providing better infrastructure to the people.
While the BJP has won the Gujarat elections, the party hasn't been able to secure the number of seats it expected, said insiders.
Commenting on this Amin said, "It's not important about how many seats we won. What is important is that the people have re-elected us for the next five years." 
"We wanted to win all the 182 seats, but we thought of giving some grace to the Congress," he laughed.
When questioned whether the BJP had strategised to target Gujarat Congress President Arjun Modhwadia and Leader of Opposition Shaktisinh Gohil, Amin said, "We didn't have any specific strategy. We wanted to win as many seats as possible." 

Gohil lost from Bhavnagar Rural and Modwadia from Porbandar.
When asked whether he expected to get a cabinet berth or become a minister in the new Modi government, Amin said, as he rushed to attend some official work, "There is no question of me being in the next Gujarat cabinet."

Image: BJP leader Narhari Amin | Photograph: Prasanna D Zore/Rediff.com